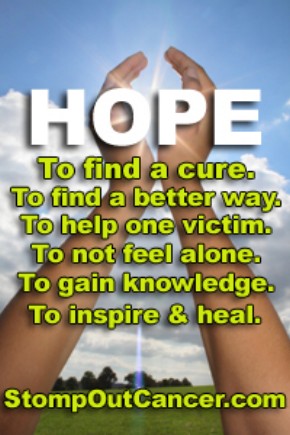 StompOutCancer.com Presents: "Stomp Out Cancer," Indie Musicians Fight Ewing's Sarcoma – Volume 2. Their goal is to raise as much money as they can for Ewing's Sarcoma research.
The sale of the CD directs 100% of the proceeds to fund research for less toxic treatment methods, and early detection methods for people with Ewing's Sarcoma.
The album will be released on October 28th, 2008, and will feature an initial 500 short run copies. Distribution would be through on-line sales, a CD release party, a co-op between several of the volunteer staff selling at various places, and also in select stores.
 All About StompOutCancer.com – SKOPE IT HERE!
They will accept all genres, but it must be appropriate for the theme of the CD. This CD is dedicated to those who suffer from Ewing's Sarcoma, therefore songs should be about enjoying life, a song about an artist's own experience with cancer, or something that is in tribute. Songs that honor those who have cancer, or overcoming obstacles are always good.
Ewing's Sarcoma is the common name for primitive neuroectodermal tumor. It is a rare disease in which cancer cells are found in the bone or soft tissue. The most common areas in which it occurs are the pelvis, the femur, the humerus, and the ribs.
The frequency in the United States depends on the patient's age, with a rate of 0.3 case per 1,000,000 children in those younger than 3 years of age to as high as 4.6 cases per 1,000,000 in adolescents aged 15 — 19 years. Ewing's Sarcoma does not have a special fund allotted by the American Cancer Society, and is also the most under funded for research and support.
Indie Musicians will officially get their chance to fight against Ewing's Sarcoma, a rare form of cancer found mostly during childhood or early adulthood.
Ewing's Sarcoma is a rare form of Cancer, but in the United States alone, hundreds of children and young adults suffer or have their lives taken away too soon by this disease. Approximately half of all people with Ewing's sarcoma are under 15 years of age at diagnosis. However, it is also common in young adults. The peak ages are between 10 and 20. It is less common before the age of 5 and after the age of 30. There are currently no early detection methods, and no cure.
Thanks to the "Stomp Out Cancer, Inc.", a collection of talented individuals who have their finger on the pulse of the Music Industry, a compilation CD titled, "Stomp Out Cancer Volume 2: HOPE," will work to bring support to researchers and Doctors with 100% of the CD's earnings going towards finding a Ewing's Sarcoma vaccine, and early detection methods.  
Jake Wheat, Station Manager for StreetBlast.com lost a dear friend, Steven Michael Mackin to the disease on October 28, 2006, and after learning of his passing late, Wheat decided to attack his grief and guilt by raising money to help fund research into finding a vaccine and to help support services for people suffering from Ewing's Sarcoma.
Stomp Out Cancer was started by Jake Wheat, and the family of Steven Michael Mackin who passed away from Ewing's Sarcoma on October 28, 2006.   He was afraid he would not be remembered, and this was our way of making sure he and the countless other people who have died or are suffering from Ewing's Sarcoma are not forgotten.
"Stomp Out Cancer: Musicians Fight Ewing's Sarcoma," is now moving forward to create a buzz and to raise awareness and funds for Ewing's Sarcoma research, "This is an inspiring project, one that will interconnect art with medical funding, and truly allow music to heal," Wheat stated.
Music submission information can be found at: www.stompoutcancer.com