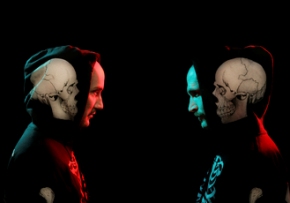 The Black Ghosts are bustin' thru the US and haunting a hood near you this July with a ghostly celebration of their self-titled debut release. Beware of these dark knights!
The Black Ghosts' have built for themselves a formidable reputation with the quiet confidence that befits the duo's enigmatic style.   With the cold, steely riffs and floor-smashing beats of the much admired Theo Keating AKA Touché, ably augmented by erstwhile Simian vocalist Simon Lord, The Black Ghosts' have begun to reveal their unique, electro-noir spirit through a brace of limited addition white-labels and their strikingly original DJ sets, that see Simon unfettering his spine-chilling vocals and shadowy tales.
And now The Black Ghosts will tour the states in support of the release of their debut full-length "The Black Ghosts" on IAMSOUND July 8, 2008, which features the electro-pop groove and first single, 'Repetition' showcasing the vocal stylings of very special guest, Damon Albarn. Other gems include ghetto-gothic 'Any Way You Chose To Give It' and the lyrically dark, bassed-out 'Some Way Through This'. This album will surely make many year end top critics polls and be your favorite summer long player.
JULY TOUR DATES
Sat 19 July : New York @ Fixed/Studio B
Wed 23 July : Toronto @ Wrong Bar
Thu 24 July : Chicago @ Smart Bar
Fri 25 July : San Francisco @ Mighty (w/ Holy Ghost!)
Sat 26 July : LA @ The Echo (w/ Does it Offend You, Yeah?)
Sun 27 July : LA (US Album Release Party @ Turntable Lab)