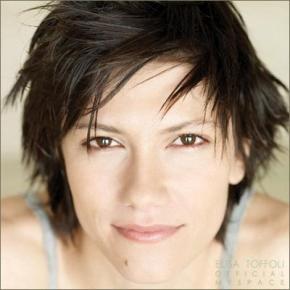 Italian singer/songwriter Elisa will debut her album "Dancing" in US stores on July 15th, with a premier on iTunes tomorrow, June 17th. The album's title track has been featured on the TV Show "So You Think You Can Dance" and the single has since been a huge hit on iTunes.
Streaming audio for first single "Dancing":
Steaming audio for "Rainbow":
Italian-born singer-songwriter Elisa, already a multi-platinum, award-winning superstar in her native country, makes her North American debut this month with her new full-length album, Dancing (Sugar/Universal). The album, which powerfully showcases the genre-bending artist's emotionally resonant pop-rock sound, premieres at iTunes on June 17 (including a bonus track, Elisa's cover of the Stones' "Wild Horses") and will be released at physical retail and other digital outlets on July 15.
Dancing builds on the love that Stateside audiences have been feeling for Elisa ever since the title track was featured on Fox-TV's hit show So You Think You Can Dance in June, 2007. Immediately following Lacey Schwimmer and Kameron Bink's breathtaking routine, "Dancing" shot into the Top 20 on iTunes (the only place it's currently available), and has since amassed more than 75,000 paid downloads, still selling briskly at 600+ downloads per week. On YouTube, organic audience reaction to the song has also resulted in more than one million views of the SYTYCD clip, making it the all-time most-viewed dance from the show online.