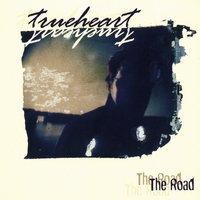 When I get a CD from a certain  PR industry figure I get excited because I really never know what I will be reviewing. This next CD I put right on and it was as easy listening as a pina colada in the Solarium on a Royal Caribbean cruises.
The leader and creator of Trueheart is a man by the name of Ross Vick from Texas. After 25 years in the toy industry Ross's wife urged him to find a new line of work. It was right there that Trueheart was born. Five years and four albums later here we have his biggest release to date, 'The Road.' Ross was even able to get famed engineer, Gary Leach, to help write & record this album. I would say that the magic was there.
After listening to this CD a few times it becomes pretty apparent that Trueheart stays true to themselves and their sound. Like any real musician they know what works for them and their fans and they try to stay within those lines while creating new songs and melodies. I can appreciate that as a music enthusiast and journalist.
This band is still considered an indie band. I must say that the packaging & production on the CD is far from indie. The booklet is very well done with pictures, lyrics, and paper stock, which is better for the environment. The sound quality is top notch as well. The CD was recorded at Rosewood Studios in Tyler, TX. My favorite sounding track is, "Still Time."
Ross does not hold back in his songwriting on this album. He also covers many topics such as love, relationships, life, war, sickness, and much more. I found, "Goodbye" to be a deep and meaningful song with a message of loss. As for the hit song on this album I will have to go with the charts on this one. Track three, "The Road" is just the total combination of a hit song. Great melody, lyrics, and just a nice sounding song.
I am truly taken back by Trueheart. This album is very well done and should be an adult-contemporary program directors wet dream. If you are looking for a soft rock/pop album that is strong the whole way through give Ross Vick and Trueheart a listen.
Review By: Mikey Frieds
[Rating: 3/5]