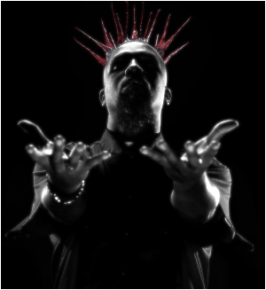 More Hip-Hop news for you as Tech N9ne releases his fifth studio album; "Killer" which is will catapult him into Hip-Hop history as being the first independent artist to sell more than 1,000,000+ records.   When is a major label going to sign this phenom?
The new album features collaborations from Ice Cube, Scarface and Paul Wall to name a few that have become a part of the historical event.
Tech N9ne will sell his one millionth album independently with the release of his forthcoming Killer album.   The double-disc release is due in stores July 1 and features guest appearances from platinum rappers Ice Cube, Scarface and Paul Wall.   An indication of the anticipation for Killer:   lead single "Everybody Move" has already enjoyed more than 215,000 plays on Tech N9ne's myspace page, myspace.com/techn9ne.   Another Killer cut, "Drill Team," has more than 145,000 plays.
Indeed, in a music industry plagued by declining sales, Tech N9ne remains one of the best-selling independent artists of any genre.   Tech N9ne's last studio album, Everready (The Religion), has sold more than 145,000 copies since its November 2006 release.   Tech N9ne's first collaborative album, 2007's Tech N9ne Collabos Misery Loves Kompany, has already SoundScanned more than 67,000 copies.
2008 has already been a banner year for Tech N9ne.   In March, Tech N9ne embarked upon the Fire And Ice 2008 tour with Paul Wall, which hit more than 50 cities across North America.   In April, Tech N9ne's second DVD, The Psychumentary, arrived in stores.   The hour-plus DVD follows Tech N9ne during a hectic day in his native Kansas City and features exclusive interviews with the Kottonmouth Kings, Cool Nutz and Strange Music artists Krizz Kaliko, Skatterman & Snug Brim, Kutt Calhoun and Prozak, as well as Tech N9ne's wife, among others.
Later this year, Tech N9ne will headline both the Strange Noize 2008 Tour and the Strictly Strange Tour.