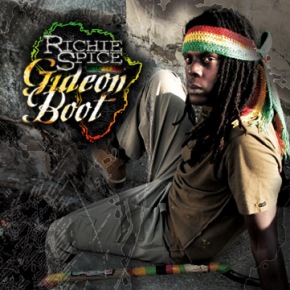 Roots messenger Richie Spice delivers consciously crafted lyrics and stomps out corruption with "Gideon Boot," his new studio album produced by the legendary Bobby 'Digital' Dixon.
The album debuted at #1 on the U.S. Billboard Reggae Chart and includes chart toppers "World Is a Cycle," "The Plane Land" and "Wrap Up a Draw."
This month's Vibe Magazine declares, "Gideon Boot delivers on its promise, serving up 14 tracks of thoughtfully composed tastefully arranged   reggae music-in short, total niceness."
Armed with just a microphone, one-drop rhythms and purifying lyrical flames. Richie Spice is the Gideon of contemporary reggae. The self declared "prince of fire" uses culturally uplifting, spiritually fortified words to defeat the negative content that informs much of popular (Jamaican) music. Fittingly, "Gideon Boot" is the title track of Spice's brilliant fourth album. Recorded over the timeless "Johnny Too Bad" rhythm (taken from The Slickers 1970s hit of the same name, popularized in the film "The Harder They Come") the song details Spice's strategic plan for delivering his musical sermon to an awaiting global audience. "I need a Gideon boot and a khaki suit to stand out inna Babylon and defend the truth/ I got a strong reggae beat with a mic in my hand fe lead out de youth dem outta destruction and let de people know right from wrong."
Just like the singer's previous albums "Universal", "Spice In Your Life" and "In The Streets to Africa", "Gideon Boot" contains inspiring messages specifically aimed at empowering vulnerable youth. Spice confidently juxtaposes his songs of valor with unity themes ("Living In Love", "Getting Harder") and the importance of staying focused ("Make Up Your Mind", "Hang On In There"). Spice's flawless vocals effortlessly scale the high notes then smoothly segue into scatted improvisations as he weaves intricate, evocative melodies throughout this exquisite 15-track set that is certain to carry his name to unchartered territories for Jamaican music.
The traditional Rastafarian Nyabinghi drumming that dominates the opening cut "Babylon Falling" heralds the seriousness of Spice's musical mission. "World Is A Cycle", sung over producer Arif Cooper's haunting "Guardian Angel" rhythm, is, as Spice explains, "a song for the children and for the parents saying be careful because what you do can fall right back on you and your kids."
Also included is the current Jamaican hit "The Plane Land" which display's Spice's superb story telling skills. The song's lyrics detail the frustration that oftentimes accompanies post 9/11travel. "Saddle up myself fe take interrogation…tek off mi shoes, tek off mi tam, if they ever find you with a spliff yu gone another land." "It is a song everyone can relate to if they travel," notes Spice, "and if they don't travel, they will learn this is what we go through as entertainers as we go to other countries."
ALBUM SAMPLER:
UPCOMING RICHIE SPICE SHOWS
Friday, Jun 13th
@ Nakisaki Night Club, 276 Fulton Ave., Hempstead, NY
More info: 516.807.0941 | 516.262.9200
Saturday, June 14th   10:30PM Until
@Caribbean City, 103 Empire Blvd / Bedford & Flatbush, Brooklyn, NY
More info: 646.383.8923 | 718.941.7220
Wednesday June 18th
17 North Parade/Wax Poetics Event, New York City, NY
Venue TBA
Thursday June 19th
@ Trocadero, Philadelphia, PA
Saturday July 12th
@ Chateau Ballroom, Los Angeles, CA
Sunday July 13th
@ Catalyst Club, Santa Cruz, CA
Friday July 18th
Reggae Sumfest in Montego Bay, Jamaica
Monday August 4th
Tortola Music Festival, Virgin Islands