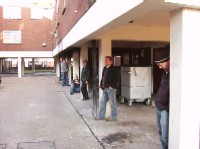 London Calling?   British rock band The Smiling Strangers are back with their third release titled All The Way.   Launched by singer/songwriter Jeff Reynolds, The Smiling Stangers have become familiar to thousands of music fans throughout the UK.
An eclectic style that includes pop, rock, jazz, blues, and so much more… The Smiling Strangers never clash, and never fail to satisfy.   Frequenting the stage at high end London venues like The White Heart and Cavendish Arms, as well as spreading their sound through Bristol, Birmingham, and many of the legendary music spots the UK has to offer: The Smiling Strangers are gearing up for a good hearted British invasion of North America.  
The members of The Smiling Strangers have all been friends for a while, so when Reynolds tapped the other members to contribute to the songs he was writing, they seemed to take on new life.   It is rare that a songwriter can ease an ego enough to allow other musicians to add to a work in progress.   The result is a pretty well polished album that is easy to listen to and sure to make waves across the pond.
The male/female vocal dynamics are top notch, the music is positive, and The Smiling Strangers seem like they are in it for the long haul.   It won't be long before you can start to look for these lads at an American music venue near you.
Reviewed by: Gary Jacobs
[Rating: 4/5]