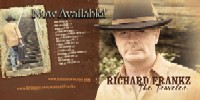 The wonderful thing about writing reviews for Skope is that you really have no idea what genre you may get to review. The minute I put on this CD by Richard Frankz I knew that this had to be a country/pop/rock album. I am totally cool with that!
First off I must add that the packaging on this CD is incredibly professional. In this day of I-Tunes it is good to see that musicians like Frankz still respect the CD as a package and take the time to have great pictures, lyrics, and a total package. I enjoyed going through the booklet as I listened to the CD. This is truly an album.
It has been two years since Frankz has released a CD. In 2006 he released, 'Point Of View' which garnered great acclaim on the radio and indie scene. Frankz was born in Pittsburgh but he was raised in a foster home in Savannah, GA. It was there that he fell in love with both rock and country music. Nowadays he lives in Milan, IL but you can still hear his southern roots in his songs. Frankz has said, "I was blessed at an early age with the gift of music, and for that I am grateful."  
This CD starts off with a bang with the track, "Just Being Me." Besides being incredibly catchy this track lets the people know that this man is doing music his own way and he does not care what others think about it!
Anyone that has read past reviews of mine knows I like to break down a CD into three categories. First off is sound quality. This CD is as well produced as any other out there. A song that sounds exceptional is track 7, "One Step Forward." I like that song also because the message can be related to my life as well.
Next up are tracks that I would push as a single. This was an easy one as I chose track one, "Just Being Me." That song is catchy, upbeat, and makes you feel good.
Finally is depth of songwriting. Frankz nails it in this. His track, "I Ask (Amanda)" is simply beautiful. This track is about his daughter and as someone who is about to have a baby next year, I love it! Another song that hit home with me is, "Time Of Our Live." This song is about catching up with old friends amidst our busy lives. I feel like that with my college boys for sure!
Richard Frankz has a great CD on his hands. Country and rock fans rejoice and enjoy this CD!
Review By: Mikey Frieds