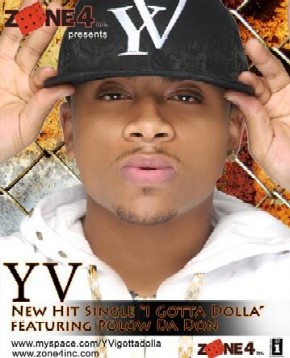 Born in Tallahassee and raised in Louisville, Kentucky- 23 year old YV fully embodies pure southern swagger.
As a child he admired the true entertainment qualities of Michael Jackson and James Brown and says it was the "Show" that attracted him to pursuing ShowBusiness. Self described as a full entertainer who loves the stage (and the ladies), YV has performed with Nappy Roots, Lil John, T.I and Lil Wayne. "I want to make a bigger name for Kentucky, its full of talent and I want to be a part of really putting it more on the map."
YV – "I Gotta Dolla" Audio Streams:
Making a name for himself in Louisville as a hook writer, YV emerged in studio sessions making contributions to various artists songs. "Once the hook is in place, if its right- then you got a hit record. The rest is easy." With current hook placements on E-40 and Warner Brothers recording artist Attitude, YV could be content to make his mark as a writer, but Polow Da Don has a different vision. While working with producer Willy Will in Atlanta, YV was introduced to Super Producer Polow Da Don as a hook writer. Polow, impressed by YV and his raw talent- encouraged YV to make full songs and pursue a solo career. This chance encounter has landed him as the most recent Zone 4 Inc. signing and the single "I Got a Dollar" is heavily buzzing the streets and radio positioning YV for an anticipated 2008 release.
"I'm tired of eating Ramen noodles and getting evicted. I'm trying to stay out of the streets and just focus on my music." With southern fused ingredients, surefire hooks and Zone 4 Inc. backing, YV will undoubtedly be leaving Ramen Noodles in the rear view mirror with nothing but stages and global exposure ahead of him.