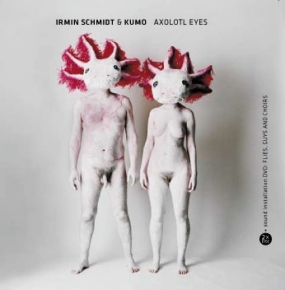 Irmin Schmidt, founder member of the legendary German avant-garde rock group Can, and breakbeat pioneer, producer and Professor Of Popular Music, Kumo (aka Jono Podmore) release "Axolotl Eyes" July 22, 2008.
Schmidt & Kumo's latest album of electronic experimentalism features Kumo's shimmering grooves, subterranean bass, theremin and violin providing the perfect foil for Schmidt's peerless and enduringly adventurous playing. Unlike their 2001 debut — Masters Of Confusion, largely put together by extrapolating snatches of music from Schmidt's opera Gormenghast – Axolotl Eyes is very much a studio recording.
With several tracks featuring Ian Dixon on trumpet and vocalist Paul J Fredericks, Axolotl Eyes also marks a return to the extended improvisation followed by painstaking editing methods pioneered by Can. "I went off to a small studio in Cologne and created the seeds that we could develop together," Kumo says. "We then distilled the ensuing hours of material into seven songs."
As a bonus, the studio album is accompanied by a 5.1 surround sound DVD of the sound installation Flies, Guys and Choirs, first conceived for London's Barbican Centre in 2001. The work combines surreally treated images from nature with subtle, quietly forceful environmental music.
Irmin Schmidt & Kumo will be performing selected dates around Europe in 2008.