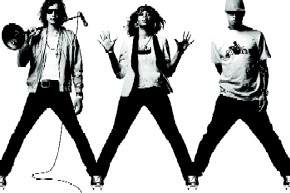 Converse, the creator of iconic shoes including the Chuck Taylor ® All Star ®, Jack Purcell ® and One Star ®, announced today that it had brought together the talents of Pharrell Williams, N.E.R.D., Santogold and Julian Casablancas as part of the brand's Century celebration.
The artists recently joined forces to create a brand new, all original music track, "My Drive Thru," that will be distributed digitally free of charge to a global audience exclusively on converse.com and authorized Converse web sites around the world. The track will be released on Tuesday, June 10.
"I've always wanted to work with Julian and I'm a big fan of The Strokes. Santogold is super-talented and she cares about music so much that it's not just about sound, it's a visual aesthetic," said Pharrell Williams, the track's producer. "Working together on original music that crossed all of our inspirations was completely refreshing and I love the track. As for partnering with Converse, I only wear and support the things that I like. The Chuck Taylor is the golden goose egg."
Converse has long been associated with the worlds of music, sport, art and fashion. The brand's current Century celebration is largely inspired by its role in disrupting the status quo over the last 100 years. The Chuck Taylor shoe has been worn by musical icons ranging from Sid Vicious to current artists like Common and M.I.A.
"As an artist that is just breaking, being asked by Pharrell and Julian to join them on this project was a dream," said Santogold, whose debut CD was released in May 2008 to rave reviews. "My inspirations come from sources ranging from singers like Nina Simone and Grace Jones to bands like Devo. Working across musical genres was like creating a patchwork where I got to weave together various influences and allow them to co-exist in a fresh and original way."
In addition to collaborating on the track, the artists also participated in the creation of a music video that will be released during the summer. The song will be promoted, in part through Converse print, outdoor and online advertising tagged Three Artists, One Song. The advertising features the three artists as well as a range of emerging musical talent from across the globe, including Kid Sister, YACHT, Bradford Cox and members of Gallows, Fiery Furnaces, Does It Offend You, Yeah?, and Care Bears on Fire.