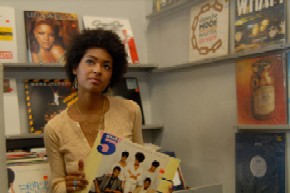 The Lady Tigra is one half of the Miami bass duo L'Trimm, one of hip-hop's earliest, sassiest, and most influential female duos.
The girls busted out of the Miami bass movement and are best known for the deliriously catchy track, "Cars That Go Boom", an ode to subwoofers. So it's no surprise that her latest is another ode to the bottom end.
Signed to High Score records in 2006, her new album, Please Mr Boom Box, is a vivid mashing of styles that helped pioneer her career… a total continuation of the bouncy, infections confections she is known for. On her new album, the Lady Tigra instictively brings a cultural hybrid of sonic motifs and collaborated with long time hero MC Lytle. The result, Please Mr Boom Box, showcases her cool as a cucumber, deadpan flow which is brilliantly layered over minimal old-school production.
"Bass on the Bottom" Video:
"Stole My Radio" Audio: