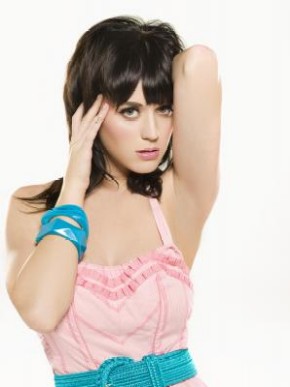 "I Kissed a Girl," which songwriter Katy Perry says is "about the magical beauty of a woman," is currently the No. 1 best-selling pop track on iTunes (& the #2 best-selling track overall on iTunes) and the #1 most-downloaded iTunes Ringtone.  
It is also the No. 1 most-requested song at multiple Top 40 stations nationwide, including New York's Z100 but also at Modern Rock stations like Los Angeles' KROQ."
Recently, MySpace launched an exclusive album premiere for One of the Boys and within one week, close to half a million people had logged on for a listen to the album.   Aside from "I Kissed a Girl", other notable tracks include "Thinking of You", which was recently heard on MTV's The Hills and "Hot N Cold," a track that Blender Magazine calls a "spunky climate-controlled kiss-off."
"I Kissed A Girl"
[youtube 4F06DyWU2F8 nolink]
The sexy, eye-popping video for "I Kissed A Girl", shot by Kinga Burza (Kate Nash, The Thrills), premiered on MySpace on May 21st and racked up more than 2 million views within two weeks – making it the site's second-highest ranking premiere ever. The clip is already sizzling on VH1 (in large rotation), MTV Hits, Fuse and Music Choice, and has been featured on the Fuse network's Steven's Untitled Rock Show and Logo's "New Now Next" music-video series.   MTV will introduce the video this Thursday on TRL during their "Spankin' New Music Week."
"I Kissed a Girl," which was produced by in-demand hitmaker Dr. Luke (Kelly Clarkson, Avril Lavigne), is the lead-off single from Katy's debut album, One of the Boys, which will be released by Capitol Records on June 17th. A witty, pop-rock gem that showcases Katy's sharp, candid lyrics, big voice, and feisty, girl-power swagger, as well as her appealing vulnerability, One of the Boys is the full-length follow-up to her debut digital EP, Ur So Gay (available on iTunes since last November), which has already earned the 23-year-old Santa Barbara, CA, native a legion of devoted fans. Those fans include the Queen of Pop herself, Madonna, who recently gave Katy shout-outs on two morning radio shows, calling "Ur So Gay" her "favorite song."
Three days after One of the Boys is released, Katy Perry will kick-off this summer's Vans Warped Tour, appearing on the Hurley.com Stage for the tour's entire coast-to-coast run from June 20th to August 17th, 2008. You can also catch the raven-haired dynamo on the daytime drama The Young and the Restless. The episode, airing June 12th, features Katy as herself doing a photo shoot for the cover of Restless Style magazine (soon to be available at http://www.restlessstyle.com/). Other upcoming television includes two appearances on TRL, one on June 12th for MTV's "Spankin' New Music Week," and one on June 16th with Katy-booster Perez Hilton. Katy will also perform "I Kissed a Girl" on Spike TV's Guy's Choice Awards, which airs on June 22nd.
Photo By: Michael Elins