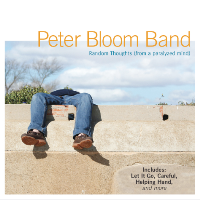 It's hard to believe that Peter Bloom suffered from the vocal disorder, Muscle Tension Dysphonia, only ten years ago. On his latest album, "Random Thoughts (from a paralyzed mind)," his voice belts out–teeming with beauty, heart, and skill. He channels UK singers like Bono, Tom Chaplin, Freddy Mercury, and Paddy Casey, while still staying true to his Canadian self.
"Random Thoughts" is anything but random. Having overcome MTD, Peter Bloom fills his album with sunshine-y messages of hope. He sounds like a Buddhist, singing, "Surrendering is not the same as letting go," and asking, "Why do you try to find insight in hindsight?" Lines like "A cigarette holding my hand" and "We could choke on the reasons why" beg graceful meditation. He's been enlightened, and is eager to share what he's learned about resilience.
On his website, Bloom claims to be inspired by the Beatles; he echoes them more in sound than songwriting. His melodies are safe, a little boring, but still very original. There's an element of classic sixties writing in his chord changes, minus the shake-up of protests and revolution. That gentility is Bloom's style. Each song is as flowery as his name, with gentle chord progressions and orchestral touches of the occasional violin, cello, or flute. Midway through the album, tracks grow cliché. Among the petals, there are leaves and stems and thorns. Some songs are best left, like random thoughts, tossing around in the back of the mind. So play "Random Thoughts" while on a road trip–it's perfect for getting lost in the music and the drive.
By Anney E. J. Ryan
[Rating: 3/5]