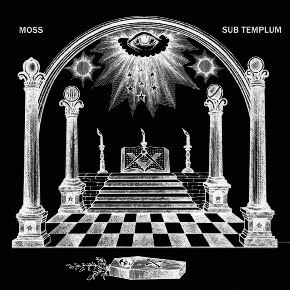 UK extreme-doom metal band MOSS has completed work on its new album, entitled Sub Templum. Already being described as, "the bleakest, darkest doom metal ever recorded," Sub Templum will drop in North American on July 8 via England's Rise Above Records.
MOSS creates eerie anti-music that transmits the occult like none other.   Nocturnally recorded deep within the mystical Welsh valleys, Sub Templum takes the funereal wickedness of the MOSS sound to excruciatingly new territories.   Produced by Jus Oborn of veteran UK doom metal band Electric Wizard (who had previously worked with MOSS on its debut album, Cthonic Rites), Sub Templum's monstrous and macabre sonic groan retains the monolithic simplicity of a Martian pyramid, while the production somehow increases the scope of MOSS' trademark wall of distortion and despair.
Sub Templum is an immense opus of occult hypnosis inspired by the macabre, masonry, marijuana, a steady diet of macabre horror a la 'Death Line' and 'Last House on Dead End Street' and Doris "ZORA" Norton.   With Sub Templum, MOSS urge the awakening of Earth's deepest, most destructive secrets – the dreadful final judgment spelled out in the cultic symbols and perverted relics of an almighty elder species, lying in wait to claim the apocalypse.   A terrifying work of uncompromisingly cryptic enormity, MOSS' Sub Templum will ruin "extreme" doom metal for everyone.  
http://www.myspace.com/cthonicrites    
The final track listing for Sub Templum is as follows:
1.) Ritus (5:24)
2.) Subterraen (23:25)
3.) Dragged to the Roots (9:33)
4.) Gate III: Devils from the Outer Dark (35:31)
When asked to comment on Sub Templum, the band offers the following arcane interpretation:
"SUB TEMPLUM:
Sub Templum is underground worship.   A dirge mass for the hidden spaces, for the altars untouched by man, for the foul cultures spawned and praised in long-petrified canyons.   An esoteric system alive to the reality of its own futility, a process of spiritual trauma in four stages:
I. RITUS
A fugue for the summoning.
II. SUBTERRAEN
The madness, agony and doom of the men who seek to know the unknowable.
III. DRAGGED TO THE ROOTS
Ceremonial sacrifice and the revelation of darkness in motion.
IV. GATE III: DEVILS FROM THE OUTER DARK
i) WALPURGIS   ii) THE COMING OF 13   iii) EXITUS TEMPLUM
Unleashed."
"CONGREGATION RISE!!   MOSS HERALD THE COMING OF THE NEW DARK AGE."