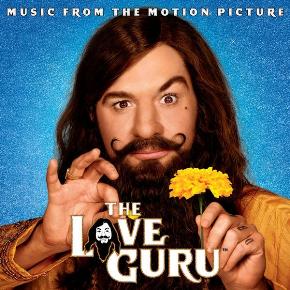 The Love Guru Pitka reveals all wisdom through song! The Love Guru soundtrack features a myriad of tracks from the movie, as well as several undertakings recorded by the Guru himself, Mike Myers.
Out everywhere on June 17th via Lakeshore Records and exclusively on iTunes June 3rd, the soundtrack includes exclusive worldly tracks by George S. Clinton and Robbie Nevil. Catching the whimsical, enlightening peril of the Love Guru, the soundtrack features Mike Meyer's renditions of classic tunes such as Dolly Parton's "9 to 5" and Steve Miller Band's "The Joker." Peppering in a mix of songs from Celine Dion and Cornershop, as well as a smashing rehash of Extreme's "More Than Words," The Love Guru Soundtrack offers up a feel good mix for music and Mike Meyers fans alike.
The Love Guru Pitka, is an American who was left at the gates of an ashram in India as a child and was raised by gurus. He moves back to the U.S. to seek fame and fortune in the world of self-help and spirituality. His journey brings him through a plethora of comedic situations, yielding humor in Mike Myer's signature fashion. Chock full of intercultural conflict, stark revelation and infectious tunes, The Love Guru imparts vision and rhythm in his own way!
The Love Guru Tracklisting:
1) Andrew Mendelson – Morning Meditation
2) Mike Myers – 9 To 5
3) Cornershop – Brimful Of Asha (Norman Cook Remix)
4) Mike Myers – Stop Hitting Yourself (dialog)
5) Mike Myers and Manu Narayan – More Than Words
6) Mike Myers – The Joker
7) Telma Hopkins and Toronto Children's Concert Choir – Lead Me To Your Rock
8) B.A.S.K.O. – Big Boi
9) Robbie Nevil – C'est La Vie
10) Celine Dion – I Drove All Night
11) Mike Myers – My Name Is Guru Pitka (dialog)
12) Lata Mangeshkar and Mohd Rafi – Mere Mitwa Mere Meet Re
13) George S. Clinton – Guru Vindaloo
14) Danny Saber – Mathar
15) Mike Myers – Guru Lineage (dialog)
16) Guru Pitka's Ashram Band – Guru Pitka Chant
CHECK OUT SAMPLE AUDIO TRACKS HERE:
"The Joker"  – Windows