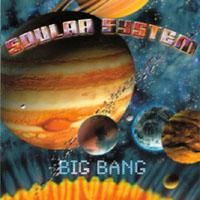 Soular System sounds like your parents' friend's band. But it's not a band–the solo Cory Morgenstern controls the guitar, keyboards, vocals, and songwriting, calling friends to fill in the rest. The result? The overproduced album of copied riffs and melodies, "Big Bang."
Apparently none of these friends had the heart to tell Morgenstern that he sings through his nose, and writes without his head. The track "Heart Games" opens with guitar that mimics Clapton's "Layla." It sounds like Morgenstern watched Brit TV's "The Mighty Boosh" and thought that Old Greg's "Love Games" would make a pretty decent song.
There is one track that rings true–Morgenstern's cover of the Beatles' underappreciated "I'm Happy Just to Dance with You." Morgenstern turns this into a late eighties soft rock ballad, complete with sax solos from a copycat Kenny G. Strangely enough, it works. Morgenstern sounds most true to himself when he writes from his age–adult contemporary–like Al Jarreau, Richard Marx.
When Morgenstern tries to rock out, he sounds like a poseur, an old man who doesn't want to grow up. "Journey to the Center of the Mind" reminds one of Billy Idol, with Indian sitar occasionally thrown in. "Wacko In Disguise" is an obvious attempt at punk rock–with background harmonies and chord progressions reminiscent of Broadway showtunes. Midway through the song, the music breaks for a little theater, the overdub of two men arguing about cutting in line. The curse words are all bleeped out. Morgenstern is too self-conscious for punk. Next time he heads into the studio, he should hang a mirror above his keyboard, look into it every once in a while, and remember his age.
Review By: Anney E. J. Ryan
[Rating: 2/5]