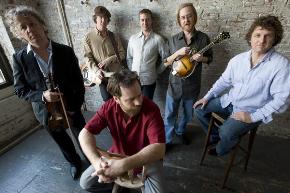 After a long wait and plenty of anticipation, Railroad Earth prepares to release their new studio album Amen Corner, which will be in stores nationwide on June 10, 2008 (SCI Fidelity Records).  
Written and recorded at lead singer/songwriter Todd Sheaffer's 300 year-old farmhouse in New Jersey's rural countryside, Amen Corner is, literally and figuratively, the rustic sound of a band happy to be at home.  
"Normally," Sheaffer explains, "you come home after six weeks on the road and jump into the studio, all frazzled because you don't have much left in the tank.   This time I feel like we've invited our friends into our living room and that's basically how we recorded it.   We wanted for years to try working this way and I'm so happy we were finally able to do it."
Combine that with the fact that Sheaffer, bassist Johnny Grubb and drummer/percussionist Carey Harmon all became fathers in the months leading up to the recording sessions and you have a recipe for change.
"The changes in our lives brought about a peacefulness that is reflected in the music," says Sheaffer. "We consciously tried to take the approach of 'less is more' in how we arranged the songs."
Amen Corner is a collection of crisp and crafted roots, bluegrass, and acoustic sides that resonates in all the right places. The tunes breathe both on and between the notes. They hit you immediately, but then linger like a good buzz.   Look for Amen Corner in stores nationwide on June 10, 2008.   www.railroadearth.com/amencorner
The band tours this summer in support of Amen Corner.   Current confirmed tour dates include:
June 04 The Orange Peel Asheville NC
June 05 Variety Playhouse Atlanta GA
June 06 Riverbend Festival Chattanooga TN
June 07 Bama Jam Enterprise AL
June 10 Vintage Vinyl St. Louis MO 6pm In-Store Performance
June 10 Blueberry Hill St. Louis MO
June 11 The Crossroads Kansas City KS
June 13-14 Ogden Theatre Denver CO CD Release Party!
June 16 The Paladium Salt Lake City UT
June 17 The Big Easy Concert House Boise ID
June 19 McDonald Theatre Eugene OR
June 20 Crystal Ballroom Portland OR
June 21 The Showbox Seattle WA
June 28 Community Theatre at Mayo Center for Performing Arts Morristown NJ
July 01 Summerfest 2008 Milwaukee WI
July 03 ROTHBURY Rothbury MI
July 04-05 High Sierra Music Festival Quincy CA
July 13 All Good Music Festival Masontown WV
July 25 Floydfest Floyd VA
July 27 Falcon Ridge Folk Festival Hillsdale NY
August 01 Dunegrass Festival Empire MI
August 02 Silver Maple Music Festival Comstock Park MI
August 13-14 YarmonyGrass Copper Mountain CO
September 04 9:30 Club Washington DC
September 05 The Fillmore at the Theatre of Living Arts Philadelphia PA
September 06 The Fillmore NY at Irving Plaza New York NY
September 13 Barrymore Theatre Madison WI
September 14 Miramar Theater Milwaukee WI
September 16 The Cabooze Minneapolis MN
September 17 The Englert Theater Iowa City IA
September 19-20 Fox Theater Boulder CO
September 22 Orpheum Theatre Flagstaff AZ
September 23 Belly Up Tavern Solana Beach CA
September 26-27 The Fillmore San Francisco CA
Photo By: C Taylor Crothers