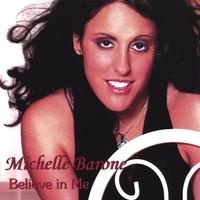 Michelle Barone successfully blended elements of R&B, pop and rap to create a disc that's beaming with crossover potential.   In my first listen of her CD, I was most impressed by Michelle's voice.  
 Every note is delivered with passion and precision. There's no over-singing which is so common in this genre, as Michelle never wastes a note.   As I went deeper into the disc I realized that Michelle is quite a lyricist too.   The words to her song "Daddy Don't Go" didn't leave a dry eye in the room when I played it for a few friends.  
Other notable tracks include "Feel Me" and "Broke Is My Heart."   The title track, "Believe In Me" is another winner.   For fans of Christina Aguilera, Jill Scottt and Alicia Keys, Michelle's CD will fill your ears with an eclectic batch of songs that will have you smiling, crying, foot-tapping and dancing all night long.
Review By: Joseph A. Italiano
[Rating 3/5]