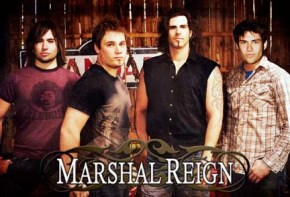 It was announced today at the CMA Music Festival in Nashville that country band MARSHAL REIGN (www.marshalreign.com) has signed to national, Las Vegas, NV-based ODDS ON RECORDS (www.oddsonrecords.com).
During a mini-press conference at their fan club booth in the Convention Center, the members of the band Cory Brown, Steven Boudreaux, Jason McNabb and Eric Wicks who all currently reside in Las Vegas, expressed their enthusiasm for the relationship.   "Odds On Records is poised to become the premiere record label in our Las Vegas stomping grounds, and we are honored to be a part of the team."
According to Bobby Ferrari, Head of Audio Production and Development at Odds On Records, "From the minute Odds On had the chance to do some demo work with Marshall Reign it was obvious the music was something we wanted to be involved in!   We look forward to making a great first record and many more in the years to come!" Marshal Reign will be releasing their highly anticipated debut album in the first quarter of 2009.
Born in the heart of Sin City, Marshal Reign is an eclectic country rock powerhouse that combines the soul of Nashville with the excitement of Vegas. The band which is comprised of Corey Brown (Drums/Vocals), Steve Bourdreaux (Keyboards/Vocals), Jason McNabb (Vocals/Guitar) and Eric Wicks (Lead Guitar/Vocals), has been performing across the country with performances at country hotspots Gilley's Saloon in Las Vegas, Nevada, The Museum Club "The Zoo" in Flagstaff, Arizona, The Branding Iron in San Bernadino, California, and the famous WildHorse Saloon in Nashville, Tennessee.