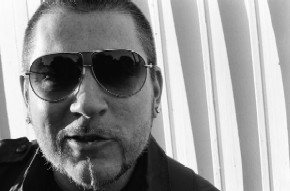 So here I was hanging at home on a nice  Wednesday night when the phone rings at exactly 7 pm. On the other line was Nick, the manager of the legendary Everlast.
Everlast is best known as the lead singer of House of Pain and also as Whitey Ford. He has persevered in the music industry for years and demands respect over various genres.
These days Everlast is focused on his new album, 'Love, War, And The Ghost of Whitey Ford' which will be released September 23rd on his own Martyr Inc. label.  
From his home which is north of LA somewhere in the Pasadena Hills we spoke about his connection to the troops. Everlast explained, "I was upset over things. I would watch the news and and try to imagine how the troops must feel." He can relate with the troops as he died temporarily from a heart attack years ago. Everlast always had a heart defect but his partying ways in his House Of Pain days was simply too much.
I asked Everlast if the USO asked him to play Baghdad, would he? He said, "Absolutely, we just did a show for the Navy in NYC." He spoke about doing an aircraft carrier tour.
"Letters Home from the Garden of Stone"
[youtube 10ej46Mhshg nolink]
I asked what he would say to GW Bush if he had the chance. Everlast quickly replied, "Good bye, good riddance." While we were talking, Everlast schooled me on how his TV stays on the news. He was watching CNN at the time but tries to watch FOX & MSNBC too.    
I was very curious to know more about this man. I remember watching this crazy Irish thug in the "Jump Around" video one day and the next he is chilled out, playing the guitar.
I asked him what the difference is between Everlast and Whitey Ford. "Whitey Ford is a crooner. It's an alter-ego, a mask to stand behind. The transformation to Whitey Ford happened after House of Pain broke up. "I was living with Dante Ross, not sure what to do. I always had a guitar since I was young. I just wanted to make a record. Next thing you know he writes, "Whats It's Like" and that was it.  
Around that time, a beef started with Eminem. You could tell that he did not want to get into it. It is old news anyway. I did ask if he was still in the House of Pain days would he have reacted differently? "I would have not responded to it differently. We were the first to beef over Napster. I do not hate on dude." The beef was that Everlast felt that Eminem did not show respect for another man that helped pave the way for him. "I feel like the Beastie Boys paved the way and Serch and 3rd Bass did for me."  
When asked if he got shit from hip hop heads for going the Whitey Ford direction he said, "I never got shit for it." Everlast called out Ghostface Killah and Sadat X as emcees that are not afraid of going outside and trying something new.
"What It's Like"
[youtube 4z9f9Eybv4I nolink]
These days things are good for Everlast. His new album is coming out on his own label, Martyr Inc with a distribution deal with Hickory Records which is part of SONY/ATV. "I wanted to get a better piece of the pie. Now I make a record and I take the chances instead of a major just giving me a check. I am blessed to sustain a nice lifestyle."
"I kepy myself angry for a long time. I tried to be what people wanted me to be. Now I have a family and I live smarter, I am doing it differently. I am blessed. Now I always say please and thank you."
After the interview was over I sat down had some Jim Beam and a Bud Light. I realized that the Everlast that we remember from House of Pain is still there he has just evolved.
Whether he is going to Vons to grab groceries in LA or touring with his crew, La Coka Nostra, this man is a testament that we all have a past but what we do with today is all that matters!  
"Who's The Man"
[youtube OYZ40p8H2Kk nolink]
http://www.myspace.com/theofficialeverlast
Photo By: Scott Caan