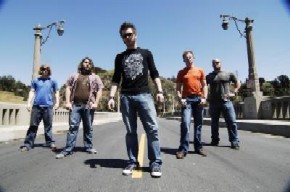 "SAVING ABEL," the Skiddco/Virgin Records debut album of southern rock quintet Saving Abel, has achieved a career milestone for the band by taking the No. 1 position on Billboard's Heatseekers listing, in its twelfth charting week.
"SAVING ABEL" also tops the Nielsen Soundscan new artists album chart this week.
"Addicted," the album's unabashedly randy first single, is also nearing a chart summit, bulleting to No. 3 on Billboard's Hot Mainstream Rock Tracks. The track also has entered the Top 15 in the Hot Modern Rock Tracks listing. The digital single has sold over 100,000 downloads.
Saving Abel on Tour
Date:                               Venue:                                                                               City:
06/05/2008                 Valarium                                                                                 Knoxville,TN    
06/06/2008                 Tupelo Elvis Festival                                                                 Tupelo,MS    
06/07/2008                 Liberty Memorial Park                                                                 Kansas City,MO    
06/08/2008                 Conservatory                                                                                 Oklahoma City,OK    
06/10/2008                 Varsity Theatre                                                                                 Baton Rouge,LA    
06/11/2008                 The Swamp                                                                                 Fort Walton Beach,FL    
06/13/2008                 The Dive                                                                                 Goose Creek,SC    
06/14/2008                 Juiblee Jam                                                                                 Jackson,MI    
06/15/2008                 Main Street Live                                                                 Jackson,TN    
06/17/2008                 Smokin' Aces                                                                                 Mission,TX    
06/18/2008                 House of Rock                                                                                 Corpus Christi,TX    
06/19/2008                 Midnight Rodeo                                                                 Abilene,TX    
06/20/2008                 Dos Amigos                                                                                 Odessa,TX    
06/21/2008                 Scout Bar                                                                                 San Antonio,TX    
07/02/2008                 Summerfest                                                                                 Milwaukee,WI    
07/04/2008                 Cotton Club                                                                                 Atlanta,GA
   
With Puddle Of Mudd:
07/05/2008               Mississippi Coast Coliseum Convention Ctr                 Biloxi, MS
07/11/2008               Riverfest                                                                               Little Rock, AR
07/14/2008               FirstTier Event Center                                                               Kearney, NE
07/15/2008               Val Air Ballroom                                                               Des Moines, IA
07/16/2008               Mayo Civic Center Auditorium                                               Rochester, MN
07/17/2008               Heart of Illinois- Fair                                                               Peoria, IL
07/19/2008               Leach Amphitheatre                                                               Oshkosh, WI
07/21/2008               House of Blues                                                                               Chicago, IL
07/22/2008               Bogart's                                                                               Cincinnati, OH
07/24/2008               Harrah's Casino                                                                               Council Bluffs, IA
07/25/2008               Guaranty Bank Lot                                                               Cedar Rapids, IA
07/26/2008               Ozark Empire Fair                                                               Springfield, MO
07/27/2008               Cain's Ballroom                                                                               Tulsa, OK
07/29/2008               Bismarck Civic Center                                                               Bismarck, ND
07/30/2008               Ramkota Exhibit Hall                                                               Sioux Falls, SD
08/02/2008               Ogden Theatre                                                                               Denver, CO
08/05/2008               The Big Easy                                                                               Boise, ID
08/06/2008               Big Easy                                                                               Spokane, WA
08/09/2008               Buffalo Chip Campgrounds                                               Sturgis, SD
08/11/2008               The Orbit Room                                                                               Dallas, TX
08/12/2008               Piere's                                                                                               Fort Wayne, IN
08/17/2008               Hampton Beach Casino Ballroom                                               Hampton Beach, NH
08/21/2008               Rams Head Live!                                                               Baltimore, MD
08/22/2008               House of Blues                                                                               Atlantic City, NJ
08/23/2008               Moore Square Park – Downtown Raleigh                               Raleigh, NC
Photo Credit: Jeff Forney