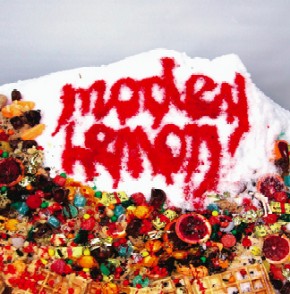 Pittsburgh's most loved sons, The Modey Lemon, rip through 3 years of silence with their new record, Season Of Sweets.
With one foot in the sci-fi darkness of their last record THE CURIOUS CITY, one foot in their past garage angst-ridden wreckage and one foot in the Krautrock brilliance of the German Frontier (three feet?) Season Of Sweets is a fuzzed out, driving masterpiece with catchy hooks beaten to death by guitar/synth mayhem and the anchor of Paul Quattrone's drums of passion.     As primitive as it is futuristic, Modey Lemon is recreating the present, molecule by molecule, every second of every breath. The Trio from Pittsburgh returns with another helping of sugary sweetness that rots your teeth and leaves you wanting more. Recorded during the dead of winter in Pittsburgh, PA, at the Brass Factory and mixed and recorded by Jason Kirker, member and principal noisemaker.
SEASON OF SWEETS OUT ON BIRDMAN RECORDS JUNE 10TH!
US TOUR DATES:
06.18.08 Washington, D.C. Velvet Lounge
06.19.08 Baltimore, Maryland. Talking Head
06.20.08 Columbia, South Carolina. Hunter Gatherer
06.21.08 Atlanta, Georgia. The Earl
06.22.08 Chattanooga, Tennessee. JJs Bohemia
06.23.08 Knoxville, Tennessee. Pilot Light
06.24.08 Fayatteville, Arkansas. The New Deli
06.25.08 St. Louis, Missouri. The Bluebird
06.26.08 Lawrence, Kansas. Jackpot Music Hall
06.27.08 Oklahoma City, Oklahoma. Conservatory
06.28.08 Austin, Texas. Emos Inside
06.29.08 El Paso, Texas. Blue Iguana
06.30.08 Phoenix, Arizona. Modified Arts
07.01.08 San Diego, Casbah
07.02.08 Los Angeles, Cailfornia. The Echo
07.03.08 Oakland, California. 21 Grand
07.04.08 San Francisco, California. Hemlock Tavern
07.05.08 Portland, Oregon. Someday Lounge
07.06.08 Seattle, Washington. Comet Tavern
07.07.08 Missoula, Montana. Badlander
07.09.08 Minneapolis, Minnesota. The Uptown
07.10.08 Milwaukee, Wisconsin. Borg Ward
07.11.08 Chicago, Illinois. Beat Kitchen
07.12.08 East Lansing, Missouri.   Mac's Bar
07.27.08 Brooklyn, New York. Music Hall Of Williamsburg (with !!!)