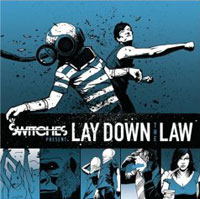 Switches came out with their first LP last year entitled Heart Turned to D.E.A.D. but it only was released in the UK. Import deprived US fans had to wait until the renamed disc Lay Down The Law became available March 2008. Despite the delay the second single "Drama Queen" has already been in commercials (Rimmel London), television shows (Ugly Betty) and even in video games (FIFA 08) before being released to US audiences. This was a cruel tease for American music fans who seemingly have an insatiable appetite for Brit pop.
Switches delivers a satisfying entrée of audio treats with this debut album. It is chalk full of upbeat punk anthems that are immediately addictive; you won't be able to have just one listen. "Drama Queen" may be heavily borrowed from Electric Light Orchestra's "Don't Bring Me Down" but we can forgive them for this derivation as a flattering tip of the hat to their classic rock forebears. Plus it is a great song; the familiarity just further reinforces its catchiness.
This effort is a collection of highly radio friendly pop-punk tracks but it skirts the edges of mainstream banality with its inventive chords and tongue and cheek lyrics. The other single "Lay Down The Law" is a fantastically crafted glam riot featuring pendulous chords and swaggering vocals ala Franz Ferdinand. Lead singer Matt Bishop displays a strong vocal range from falsetto to tenor, well exhibited on "The Need To Be Needed", the layered vocal composition, choral backdrop and balladic instrumentation is highly reminiscent of Queen.
These more dramatic and layered compositions are broken up by rambunctious and energetic tracks like "Message From Yuz" which is playfully satirical and irreverent. Bishop vaults from punk sneer to melodic sweetness with ease and keeps you guessing on where he's going next.
By Shaun Flagg
[Rating:3.5/5]
Listen to "Lay Down The Law"
[audio:Lay Down The Law.mp3]