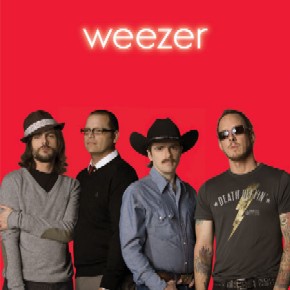 Weezer will release the sixth album in its storied history today with 'Weezer'. The album is one of the most anticipated in the band's history, fueled by the #1 Modern Rock single "Pork and Beans" and its video.   The song has held the top spot for 5 consecutive weeks.
The single is a song of self empowerment, where people are urged to follow   their instincts as exemplified by the lyrics "I'm a do the things that I want to do/I ain't got a thing to prove to you."
The video for the single features a multitude of YouTube stars in a tribute to the cultural phenomenon that YouTube has become and is the top viewed music video on the internet with well over 5 million viewings on YouTube itself. It has been quickly added to rotation on MTV, Vh-1, and Fuse. MTV is further supporting the band by putting them into their 52 Bands in 52 Weeks program where MTV handpicks one band weekly and gives them the equivalent of over 11 hours of on-air promo per week on the channel.
'Weezer', which people are referring to as the "Red Album" to differentiate it from two previous eponymous albums, is a collaborative effort with all band members taking a turn at songwriting and singing lead vocals. In the studio working with Garrett "Jacknife"   Lee, Rick Rubin, and themselves as producers the band used a fearless approach to challenge themselves to make the most ambitious album they could.   The result is a complete album with a hodgepodge of influences synthesized to make one kick ass album.
Link to 'Weezer' on iTunes: