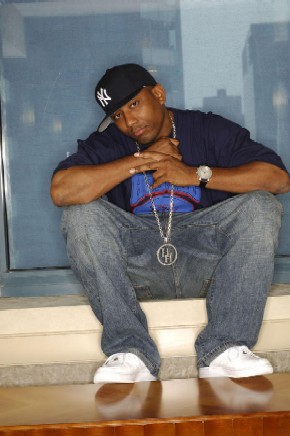 Hustle Hard Entertainment/Atlantic recording artist Maino made a spectacular debut onto the hip-hop scene with his surprise appearance at Sunday night's HOT97 Summer Jam in East Rutherford, NJ. The Brooklyn-based MC was brought to Giants Stadium stage by none other than multiple Grammy Award-winning superstar Alicia Keys.
Maino proceeded to light up the enormous crowd with his current street anthem, "Hi Hater," which will be featured on his eagerly anticipated debut album, "IF TOMORROW COMES…" The collection will arrive in stores and at all online retailers on September 30th.
Maino – "Hi Hater"
[youtube e-LFBNbDzBs nolink]
"Hi Hater" is set to become one of the summer's hottest tracks. The single — a quintessential club-banger produced by Mista Raja and Maino — is currently scoring at NYC's two biggest Urban radio outlets, HOT97 and Power 105. In addition, the "Hi Hater" companion video has just been added at MTV2 and MTV JAMS, where Maino has been named one of featured artists in the network's "Fab 5 of Summer 2008" programming.
Already notorious in the hip-hop underground scene for a number of buzzworthy mixtape joints, Maino has been hailed for his blend of gritty lyricism with riveting street flair. His appearance on "Getaway Driver," a featured track on Rockstar Games' blockbuster Grand Theft Auto IV, brought him to a wide new audience and is now set to take things even further with "IF TOMORROW COMES…" The album sees the MC showing off his unadulterated candor and staccato flow on such tracks as the hard-charging "Be Me" (produced by Nard & B) or the J.R. Rotem-produced "Back to Life". Maino is joined by a star-studded guest lineup, including his multiple Grammy Award-winning labelmates T.I. and B.G. with production from such hip-hop notables like Cool & Dre, Chris Styles and GQ Beats. Stacked with a broad spectrum of bangers, "IF TOMORROW COMES…" makes an indelible first impression of a serious new hip-hop star.