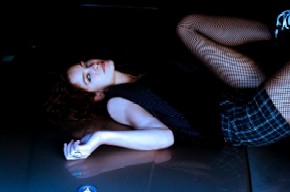 British soul singer, multi-instrumentalist, writer, producer Kirsten Price is extending the British tradition of re-interpreting American soul and will be presenting this expression in the release of her debut album Guts & Garbage, out July 1st, 2008 on KPI.  
We plan to commemorate this occasion nationally with CD Release Performances in San Diego, Los Angeles and New York City.  
Price will bring her "ferocious rock-and-soul pipes"(Washington Post) to U31 in San Diego on June 25th, Hotel Café in Los Angeles on June 27th and a special hometown headlining performance at the Highline Ballroom in New York City on July 11th.   Between and around these performances, Kirsten will remain on the road including a Main Stage slot at Pridefest in Milwaukee with Natasha Bedingfield, stops in the Hamptons, Chicago and the sonically impeccable World Café Live in Philadelphia.   More summer tour dates to be announced!!
Select footage from these performances can be viewed below:
"Bring Me Back" (VLAZE TV)
[youtube nhcAp-rofUI nolink]
"Fall" spliced w/ interview (Billboard Underground)
[youtube fvbISyDC62E nolink]
Interview (VLAZE TV)
[youtube kNEhgHg76Fg nolink]
Price's influences are prevalent on Guts & Garbage, a sexy creation awashed in dance, soul, funk and r&b.   She is the resulting brew if old-school Lenny Kravitz was a female, and her nanny was Alicia Keys.   From the seductive back-stepped groove of "Magic Tree" that kicks off the album, the 'Nawlins howls that lead to the driving chorus of "All Right" to the sultry ballad "Fall," Guts & Garbage not only crosses genres, it imbeds a stamp and digs a groove into them.
Kirsten Price will release Guts & Garbage, out July 1st, 2008 on KPI.   For more information, check out http://www.myspace.com/kirstenpricemusic.
Kirsten Price Tour Dates:
 
June 7th Pridefest / Miller Light Main Stage Milwaukee, WI
7:00PM
June 8th   Pridefest Albany, NY
3:00PM
June 14th Zen Lounge W. Hempsted, NY
9:30PM
June 23rd The Elbo Room San Francisco, CA
10:00PM
June 25th U31 San Diego, CA CD RELEASE SHOW
7:30PM
June 27th   Hotel Cafe Los Angeles, CA CD RELEASE SHOW
8:00PM
July 11th Highline Ballroom New York, NY CD RELEASE SHOW
9:30PM
July 16th Mexicali Blues Teaneck, NJ
10:00PM
July 18th   Martyr's Chicago, IL
9:00PM
July 27th   World Cafe Live   Philadelphia, PA
8:00PM
Photo By Mark Mikesil