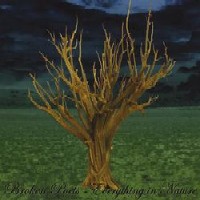 So I sat down at my desk this morning to dive head first into Tim McDonald's new album, 'Everything In Nature.' I will be the first to admit that I was not familiar with Tim prior, but I think that will make for a better review.
Little background if I may. The Broken Poets were launched in NYC but they reside now in Phoenix, AZ. This is their second release since their 2006, 'Reincarnation.' The main two members are Tim McDonald and Lana Antropova. They bring in other musicians as well as needed on certain tracks.
This CD here has a special meaning to it. It is centered around and dedicated to promoting a more global consciousness about our relationship to nature and ourselves. 50% of the profits from this album are being donated to OXFAM, Greenpeace, and NDRC.
This CD moves at a rather slower tempo. Each song takes you deep into the mind of Tim McDonald and you really have to focus on the music and lyrics to take it all in. The sound quality is great! You can tell that this was recorded in a sophisticated studio.
As far as songwriting I do not think you can get much deeper than Tim's writing. He gives the listener a view into his mind on every track. The lyrics and tempo of the music make the listener just chill out and take it all in. One track that sticks out to me lyrically is, "The Matriarch." That is a very touching  & beautiful  track.
There were two tracks on the CD that stood out to me as hits. The first was track number one, "Love For What's Real." This is a beautiful song that flows perfectly. The second was track seven, "The Message." I have played this song over 5 times already, it is contagious.
This is a great CD. It is for the music enthusiast looking to dive deeper and step outside the mainstream. Be careful though, you may not come back.
Review By: Mikey Frieds