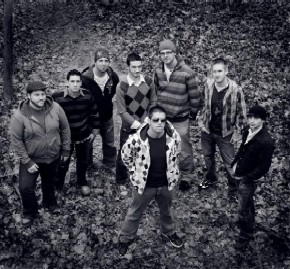 Straight out of Long Island, NY comes Stealing Jane. This band is coming up in the ranks and have got quite a buzz behind them. The boys will be playing Skope Live! Summer Bash in Cambridge, MA on 7/25 sponsored by AMP Energy! Stoli sat down with Bryce Larsen, lead vocals and rhythm guitar, to talk about the show and much more!
Stoli: You guys are playing the 7/25 Skope Live! show in Boston. Are you looking forward to coming to Boston and have you played here before?
SJ: Absolutely. Boston is a great city! so young and full of life… Matt went to Berklee and I used to visit him there alot we had some good times! We've played a few shows in the city and they've all be alot of fun so we're definitely looking forward to heading back.
Stoli: What can fans in Boston expect from a live Stealing Jane show?
SJ: A good time!   We absolutely love what we do and we always try to involve the crowd as much as we can… expect a high energy rock show with dynamic songs that will hold your attention through to the end!
Stoli: When you are preparing for the show how do you decide on   what set list to put together?
SJ: That depends on what show it is.   If there are alot of new people there and we want to make an impression we have a certain few sets for that situation. If there are a lot of old fans there then we like to bring out some of the tunes they might not have heard in a while. Either way you'll have a good time so we don't put too much stress on it.
Stoli: You are based in Long Island, NY. How do you let all your fans know about coming to Boston for the 7/25 show?
SJ: A lot of our fans check our myspace from time to time where we have the show schedule, and we also have a bustling community on the messageboards of www.stealingjane.com.   The best way to get in touch with the crowd out there is through a localized emailing.   we have zip codes attached to the emails on our list, so that people can get emails that relate to them.
Stoli: What routines do you have to get ready mentally & physically for a live show?
SJ: We find we play much better if we spend the whole day together, hanging out, laughing, practicing, driving, whatever. Then as show time approaches, we'll stretch, and do a "hands in" in which we count down and shout together some inside joke from the day. Always seems to get us pumped!
Stoli: How did you all come together and decide to form a band called, Stealing Jane?
SJ: Well, there are eight members, and quite a few ex members and just as many stories.   We started in high school for a battle of the bands, and called the band HyJinX. After 5 years and multiple incarnations of the band (we were a ska band, a cover band, a wedding band, etc)   we finally settled on a lineup and a style of our own and wanted to leave the other types of bands we had been in the past so we changed the name and started freash and it's been going great ever since :)   the name comes from Maroon 5's album "Songs ABout Jane" being that it was the first album that we ever agreed on   and it gave us a starting point in our own writing.
Stoli: You have shared the stage with some huge acts. What have you learned for those shows that you use in your own sets?
SJ: Every show is a learning experience.   We always try to take something from every show we see, We've learned so much about patience on stage, professionalism, crowd control, showmanship, and so much else from the hundreds of bands we've played with.   and hopefully we've been able to pass on some of our lessons to some other bands we've played with who were just starting out.   it's all about sharing ideas and creating something beautiful and enjoyable!
Stoli: You are shooting your first music video on 5/31. How did you decide to use the song "Outside"? What is the concept and idea behind the video?
SJ: Outside has become the most popular song from our last release, so it was an easy decision which song to do.   The video's concept is great.   Guy Manly Productions came up with it.   It's about a guy and a girl in a foot race.   it follows them out of the high school track and through the school and town, showing memories and events along the way of the relationship gone wrong.   it will fit really well with the lyric of the song. I'm ver excited!
Stoli: You are currently unsigned to a major label. If you could be signed to any major label what would that label be and why?
SJ: To be honest, I'm not really sure.   I'm enjoying the ride right now, playing lots of shows, meeting lots of people, and doing it ourselves.   That's a bridge we'll cross when we get to it, not to say we're taking it lightly though.   We'll do our best to make sure that whatever deal we may sign will continue to allow us this lifestyle of creating music!
Stoli: You have played shows all over the country and beyond. What cities did you have the best times in?
SJ: Providence has been great for us.   EVeryone there is so lively and into the music scene it gets us so pumped. It's great to see so many new faces knowing all the words to our songs!   We also have had some great times in Louisville, Atlanta and Gainsville.
Stoli: Please tell all the legion of Stoli readers out there why they should come check out Stealing Jane in Boston on 7/25?
SJ: It's like going to the gym.   You may not feel like leaving the house, but if you do, then you're real happy you did when you get home.   We'll put on the best show we can, and always leave you in a good mood, hopefully inspired and uplifted and hopefully tired and sweaty from dancing!
Stoli: What can we look forward to from you guts for the rest of 2008 & beyond?
SJ: We're currently in preproduction for the next record, so look for lots of new songs to be coming out on the road.   We like to try the songs out alot on stage before we record them.   We'll also be putting up the new video online, along with lots of road footage and more. There's always new content in the world of stealing jane!
Stoli: Thank you Stealing Jane, see you on 7/25 in Boston!
Skope Live Summer Bash For Autism Speaks
Sponsored by AMP Energy – www.ampenergy.com
Middle East
472 Massachusetts Ave
Cambridge, MA 02139
(617) 492-9181
www.mideastclub.com
$10 — 8 pm Doors — 18+