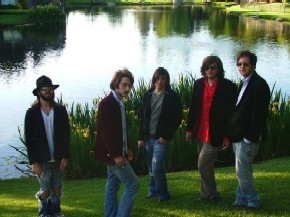 New Jersey's, SOCRATIC will hit the road in June on an Absolutepunk.net-sponsored tour with Bedlight for Blue Eyes, Driving East and Mercy Mercedes.  
SOCRATIC is on tour supporting their new release, SPREAD THE RUMORS which Absolute Punk lauded as "one of the most enjoyable pop-rock albums released in 2008."
The tour kicks off June 28 in Needham, MA and will hit 24 cities on the east coast and in the midwest before wrapping up in Baltimore, MD on July 24.
The release of SOCRATIC'S SPREAD THE RUMORS (produced by Mark Hoppus of Blink 182 and +44), kicked off with a packed in-store performance and signing at Vintage Vinyl in Fords, NJ.   The celebration continued on May 15th at Maxwell's in Hoboken, NJ at the band's over-sold CD release show with kids even being turned away at the door.
The tour coincides with the release of the first music video, "Boy In A Magazine" expected to hit airwaves in June.
SPREAD THE RUMORS features SOCRATIC'S trademark mix of clever lyrics, spangled melodies and engaging arrangements.   The album begins with the righteously catchy but deeply dark "Boy In A Magazine." "May I Bum a Smoke" is a cheery anti-love song while "Long Distance Calls," written by the band's Vincent D'Amico, adapts a nursery rhyme-like melody to a vulgar tale of an American family flameout. The title track picks up that theme in a touching slow rocker, while "Constant Apology" is a funny and unapologetically pop gem (" I used to think that my mind was wasted/But now I can't recall").
In 2006, Socratic self-produced the 5 song EP, Just Turn, which was offered as a free online download and has received over 50k downloads to date.   The band's full-length debut, Lunch For The Sky (2005) sold more than 15K units and garnered excellent press including accolades from Alternative Press Magazine who stated, "For those eyeing a pop-rock getaway that's a bit more daring and exotic, Socratic's just might be the golden ticket."
SOCRATIC is Tom Stratton (Percussion), Duane Okun (Guitar, Vocals), Vinny D'Amico (Piano, Vocals), Lou Panico (Bass) and Kevin Bryan (Guitar, Vocals).
www.MYSPACE.com/SOCRATIC              
www.DRIVETHRURECORDS.com
SOCRATIC on tour with Bedlight for Blue Eyes, Driving East and Mercy Mercedes
6/26 – Peekskill, NY @ Peekskill Elks (No Mercy Mercedes)
6/27 – Needham, MA @ Needham VFW (no Mercy Mercedes)
6/28 – Rochester, NY @ Montage Music Hall
6/29 – Altoona, PA @ Martial Arts Alliance Building
7/1 – Muncie, IN @ The Launching Pad
7/2 – Lansing, MI @ Mac's Bar
7/3 – Chicago, IL @ Reggie's Rock Club
7/4 – Iowa City, IA @ Picador
7/5 – LaCrosse, WI @ The Warehouse
7/6 – Minneapolis, MN @ Triple Rock Social Club
7/8 – Omaha, NE @ Club Roxbury
7/10 – Oklahoma City, OK @ The Factory
7/11 – Lewisville, TX @ Fat Daddy's Sound Shack
7/12 – Houston, TX @ Java Jazz
7/13 – Austin, TX @ Red 7
7/14 – San Antonio, TX @ Rock Bottom
7/16 – Ruston, LA @ The Norton Building
7/17 – Metairie, LA @ The High Ground
7/18 – Tampa, FL @ Orpheum
7/19 – Jacksonville, FL @ The Pit
7/20 – Orlando, FL @ Back Booth
7/22 – Columbia, SC @ New Brookland Tavern
7/23 – Raleigh, NC @ The Brewery
7/24 – Baltimore, MD @ Fletcher's