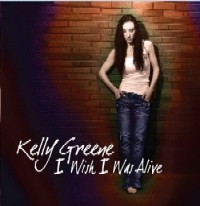 It is finally here, Kelly Greene's new CD, 'I Wish I Was Alive.' At first look the packaging looks great. Nice clear pictures and a very professional look.
This is Kelly's second album and the growth is very evident at first listen. To those that have never heard Kelly sing she has a unique voice. She also has a great look to her which never hurts in this business. This CD was recorded with "no pop" producer Jason Rubal (Dresden Dolls, Heirosonic).
The first track on the CD, "You Are No Angel" comes out swinging. It shows that Kelly can rock out with the best of them. She has got the ability to sound clear and strong over the drums and guitar riff.
As you may know from prior reviews I rank CD's on three things. The first is sound quality. This CD sounds clear and digital the whole way through. A great track that exhibits this is, "Stare At The Sun." The second criteria is depth of songwriting. You know from listening to Kelly sing her lyrics she is coming from a sacred place. I was very touched by the final track, "I'll Miss You When You Go." The third and final ranking is radio friendly songs. This was a tough call but if I were to pick two hits they would be, "I Wish I Was Alive" and the upbeat "Bottle of Crazy."
Overall this is a great CD for those that respect the independent musician who is doing things her own way. Kelly pulls no punches and the music is powerful enough to keep the CD playing the whole way through. Very nice job Kelly!
Review By: Mikey Frieds
I Wish I Was Alive – Kelly Greene – Album Download