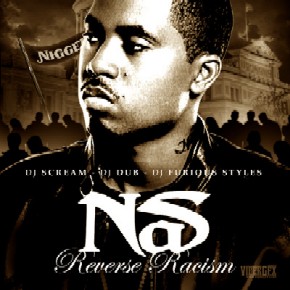 Reverse Racism, an aural dedication to the Queensbridge rapper, Nasir Jones has been put together by DJs Scream, Dub and Justo Award winner Furious Styles.
The tape which is available for free download is a testament to the man who has brought us classic albums such as Illmatic and Godson. Nas has since declaring Hip-Hop dead and tentatively titling his next album Nigger, encouraged debate within the board rooms of his label home, has incited opposition from the most revered Reverends and has fueled many a barbershop and street corner discussion.
The sheer ingenuity of his lyrical prowess and story telling has been molded into this epic collection of tracks by three of the hardest working DJs in the game. Aliging songs such as the Lauryn Hill assisted If I Ruled the World with the Salaam Remi produced Made You Look and War, this 32 track opus solidifies Nas's tenure and future in not just Hip-Hop but in addressing the attitudes and direction in which life evolves.
 
"You get to hear Nas's point of view from the perspective of 3 prominent DJ's that represent The North and the South.   Nas's music has had an effect on anyone who loves hip hop regardless of gender, race and geographical location." –DJ Furious Styles
"This tape is crazy. Me, Dub and Styles went in. Its a historical ride through the career of one of the most influential hip-hop artists of our times" – DJ Scream
"We've had a chance to see Nas grow as an artist from Illmatic to now.   Like all the unheralded greats, he's going through his share of adversity for making a social statement with his album title.   The lynchings continue at the hands of the new overseers, the police.   So to even give the man problems over his album title after similar album titles were released by NWA and Ol Dirty Bastard is ridiculous." – DJ Dub
After the ridiculous amount of downloads Reverse Racism receieved yesterday we have had to put up another link. Please accept our apologies if you were trying to download from the link we sent out yesterday.. this one below is up and running.