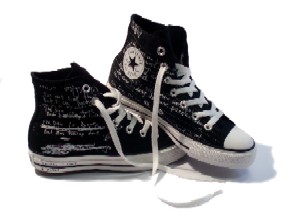 Converse continues its celebration of 100 years with the debut of its Fall 2008 Footwear Collection that celebrates the brand's iconic presence throughout the last ten decades and undeniable influence on pop culture.
Converse pays homage to The Grateful Dead and Kurt Cobain as musicians who have transformed culture and changed the world featuring shoes designed to honor these pioneers of music who have disrupted the status quo. These latest shoes will be available at Journeys (http://www.journeys.com) stores across the county.
"As we continue into the second half of the Converse Century with our Fall 2008 Footwear Collection, we celebrate the originals who have never been afraid to disrupt the status quo. They are the renegades of sound, the league-changers, champions of underachievement, the paint drippers and those with flawless style. These pioneers follow what's inside and do what they believe to be right. They are the ones who have created the last 100 years of Converse history and will be the ones to define the next 100 years," said Scott Patt, Converse Global Footwear Creative Director.
View the exclusive Kurt Cobain and Grateful Dead collection here: