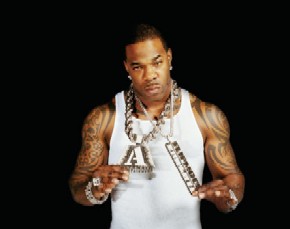 LINKIN PARK INVITE BUSTA RHYMES ON TOUR: Linkin Park performed a short set for some fans and media at a rehearsal studio in North Hollywood, California yesterday.
The band performed "Wake," "Given up," "Lying Away from You," "Leave Out All The Rest" and "We Made It" with Busta Rhymes.   After the brief show, LP singer Chester Bennington announced that Rhymes will be joining the Project Revolution Tour.   The tour also features Chris Cornell, The Bravery, Ashes Divide, Atreyu, Hawthorne Heights and more.   The outing kicks off on July 16th at the Tweeter Center in Boston and wraps August 24th in Houston, Texas.
BUSTA RHYMES BRINGS IN THE BIG GUNS: Busta Rhymes called in a few of his friends for the remix of his new track "Don't Touch Me." According to MTV Base, the new version, titled "Don't Touch Me (Throw Da Water on 'Em)," features Spliff Star, The Game, Lil Wayne, Nas, Big Daddy Kane and Reek Da Villain, who is a new artist from Busta's label, Flipmode.   The song just leaked to the Net and Bus made a point to mention that they were "more than likely to have a phenomenal video for the remix." His full album, Blessed, is set to drop early in July.
LEGAL ISSUES INSPIRES BUSTA RHYMES SINGLE "DON'T BELIEVE THEM": During an interview with MTV Base, Busta Rhymes said that his track "Don't Believe Them," from his upcoming album, Blessed, was created with inspiration from the current legal dramas of fellow artists T.I. and Akon, who both appear on the track, not to mention his own past dealings with the law.   Busta said, "We wanted people to – as bad as things might look for us sometimes – just know that it ain't over until you say it's over at the end of the day. 'Cause nobody can really dictate what the outcome of your destiny, what your life is going to end up becoming, unless you let it happen that way." Blessed is scheduled to be in stores in early July.