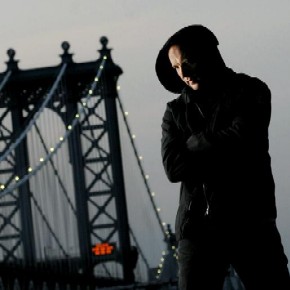 Steve Northeast is no stranger to the indie rock scene. Steve imported to the US years ago from Australia. He resides in NYC and has just released his debut album, 'Inside.' We sat down with Steve in NY to talk all about the new album, following your dreams, American Idol, and much more!
Stoli: Congrats on your new album, Inside! How long did it take and where did you record it?
 
SN: Thanks a lot! The album was recorded over a ten month period in a couple of different studios located in Brooklyn, New York. Most of the tracking was done at Bushwick Studios then I decided to finish off the album at Studio G where I completed vocals, some guitar parts and the mixing.
Stoli: When you are going to produce an album how do you decide what songs to keep and what not to?
SN: I decide what songs I'm going to keep if I think I have done justice to the song and if it stands up in the context and feel of the whole album.
Stoli: You are the complete package for sure. Are you interested in a major deal or are you content going the indie route?
SN: I'd always consider my options of course but if a major label came knocking they would have to share my vision with respect to how I go about my music. We'd have to be on the same page.
Stoli: You moved to NYC from Australia. Were you friends & family back home supportive of your musical journey?
SN: Absolutely! The people who count most knew how important it was for me and how important it still is to me, to give myself every opportunity to carve out a career as a successful singer/songwriter.
Stoli: Your songwriting on 'Inside' is very personal. Are all of your songs based on specific experiences in your life?
SN: The majority of the songs are quite close to the bone you could say. They are definitely things which I have felt and observed at some stage.
Stoli: My favorite track on your new album is "Out Of Here." What are you talking about on that track?
SN: "Out of Here" is about getting yourself out of a certain mindset that you're in. Don't give up, don't lose hope but make a change to create something new and positive.
Stoli: As an independent artist it can get tough at times. What drives you as a musician to create and touch your fans?
SN: Sure, as an independent musician you have your frustrations but at the end of the day you do what you do because you want to and it's a part of who you are as a person. Having other people getting something out of what you create is a massive bonus and a very satisfying part of being an artist.
Stoli: How do you decide what musicians you will invite to appear on your CD?
SN: It's all about the vibe and being the right musician for the music.
Stoli: Less and less music consumers are purchasing CD's these days. Where can readers purchase the new CD online?
SN: My music is available on itunes and CDBaby.
Stoli: Do you think that these musicians who are on American Idol are more talented or they get a free ride from the show?
SN: I certainly don't think that they are more talented than someone who doesn't go on American Idol. Having the exposure in front of such a huge audience is certainly going to help them get noticed but at the end of the day and certainly after the show, you have to be able to back it up with hit songs. Good luck to anybody I say, that put's themselves out there in the first place.
   
Stoli: What are you most proud of as a musician that you have accompished to date?
SN: Finally having my debut album "Inside" completed. I took a step or two back moving from Australia to New York with establishing myself but the hard yards are now starting to really pay off.
 
Stoli: Where do you see the music business in 10 years from now in regards to the creating, marketing, & selling of music from an indie perspective?
SN: I really believe that what is happening now with the way indie music is able to reach large audiences with the internet etc people will not only continue to discover but search for independent original music. I think we'll start hearing some truly great music from independent artists who will become hugely successful by remaining independent. Music we would not have gotten to hear if the industry kept on going the way it was. The internet has made it possible for independent artists to establish a career and to be seen and heard on a global scale.
Stoli: Please let our readers know where they can pick up the new album, 'Inside', and whats up for the rest of 2008?
SN: Itunes and CDBaby is where you'll pick up "Inside". As for the rest of the year, I'm off to Australia for June and July for some shows then hopefully after that I'll be touring the US and possibly the UK where currently I'm receiving some airplay.
Stoli: Thank you Steve!
www.myspace.com/stevenortheast  
www.stevenortheast.com