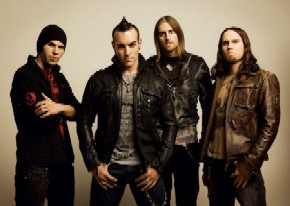 Interscope Geffen A&M Records and Xbox 360 video game and entertainment system from Microsoft, have joined forces to premiere the hard rock act Rev Theory's new music video exclusively on the Xbox LIVE Video Store. This will make Rev Theory's hit single "Hell Yeah" the first ever video premiere on Xbox LIVE.
Available Wednesday, May 28th 2008, Rev Theory debuts the never-before-seen video to the 12 million Xbox LIVE members around the world. This marks a new relationship between the leading record label Interscope Geffen A&M Records and Xbox 360 to sell music videos and graphics from Interscope Geffen A&M's diverse roster of artists to members of Xbox LIVE.   Xbox 360 is the only video game console offering TV shows, movies and music videos on demand. Theme and Gamer Picture Packs will also be available soon for users to customize their profiles and XBOX Live marketplace with Rev Theory graphics from their forthcoming album Light It Up.
Rev Theory are no strangers to the gaming world, in fact their song "Light It Up" is included in the upcoming Electronic Arts release of NASCAR '09. Rev Theory will also be joining their gaming fans in some healthy competition in June as they participate in the popular Game With Fame on Xbox LIVE program which pits musicians against their fans in a competitive multiplayer online tournament.
The new video for "Hell Yeah" features the World Wrestling Entertainment Diva, Ashley Massaro, and lead singer Rich Luzzi going head-to-head in a metal bending car chase, juxtaposed against a ripping performance by Rev Theory set inside the guts of an airplane graveyard in the California desert. The first video from Rev Theory's June 10th release Light It Up is produced by veteran producers Brian Howes and Josh Abrahams.
"Hell Yeah" is the perfect video for the gaming world, filled with action, excitement and, most importantly, this year's adrenaline-fueled anthem for the ages – "Hell Yeah"!
Preview player: