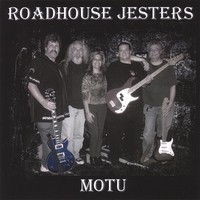 This next CD I received was rather simplistic in regards to packaging. A black and white cover with a picture of 5 people that look like close friends or family even.
I am a firm believer in letting the music speak for itself so I popped the CD right in. Motu is the creation of Dr Richard Michelson who has a global fanbase. He is a powerhouse in the blues genre.
This CD is actually a live CD. There is something about live blues music that makes me want to grab a bottle of Jack Daniels and sit in a bar for hours on end. Motu's idea with the CD was to record the CD in an intimate club setting. Motu did not let anyone know that they were performing and recording live so that his fans would not drown out the live sound. He even booked the night as the 'Roadhouse Jesters.'
The end result of Motu's scheme is brilliant. If you can put yourself in a frame of mind to sit and play this CD and capture the musical ingenuity you are in for a treat. Some tracks of note are, "I Got My Refund Check," "People Get Ready," and "When The Levee Breaks."
Not only did I enjoy reviewing this CD but I plan on playing it at many summer BBQ's coming up. This is feel good and have a drink type of music. Thank you Motu!
http://www.roadhousejesters.com/
Review By: Mikey Frieds
[Rating: 3/5]