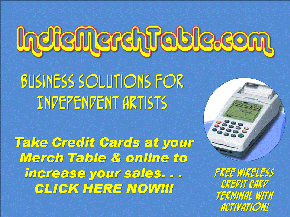 New credit card processing and business service program offers the opportunity for independent artists to control their business, make more money, and connect with industry professionals.
Take your merchandise sales to the next level, at your shows and online, and save on discounted original merchandise from our partner providers.
IndieMerchTable.com announces the launch of its   credit card processing and business solutions programs for independent artists.   Bands, solo musicians, independent labels, comedians, and performers of all types now have the opportunity to take control of their businesses, finances, and careers.  
Customers paying with credit cards spend more than those paying with cash, and now artists can take advantage of this thanks to IndieMerchTable.com.   "Merchandising is an under-utilized aspect of the independent artist's ability to create revenue, and we want to help them create the opportunity to control their destiny and help them grow their revenue.   IndieMerchTable.com offers a double incentive by providing on-site credit card sales as well as website processing solutions.   We made it affordable to offer credit card processing. The sale of a few t-shirts or CDs will cover the costs associated with accepting credit cards. IndieMerchTable.com has now made accepting credit cards accessible to all artists, not matter what stage of their careers they might be in.," said RJ Wafer, Director of Business Development for IndieMerchTable.com.
The IndieMerchTable program was based on RJ's own needs as an independent author and through the needs of others. RJ has worked with in the New York City independent music scene as a journalist, producer and videographer.   He said, "To be able to make music and a living at the same time doesn't sound like too much to ask."