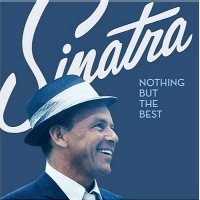 Frank Sinatra is a musical legend. What could be more exciting than to receive his greatest hits all on one CD. Sinatra is one of those artists that can make any song sound like a hit.
I will admit that I am a Sinatra fan due to my obsession with Mob movies and shows like Goodfellas, Casino, and Sopranos. Hearing his music play in the background was perfect background for so many historic scenes.
The tracklisting on this CD did not miss one mainstream hit. You have got all the good ones from, "Summer Wind" to "My Way" to "It Was A Good Year."
It would be foolish for me to write about the songs on this CD. All the songs are Sinatra's hits from the past. There is not any new hits that they were waiting to release now. Many of them remastered to give that crisp and new sound. The sound quality of this CD is awesome and you feel like Frank is right there performing for you live. You also have a great package of photos and info in the CD booklet. I enjoyed looking that over as I listened.
Bottom line is that if you are a Sinatra fan you  need this album. It is a great collection of songs to have on when you have friends or family over for a BBQ or dinner party this summer!
Review By: Mikey Frieds
[Rating: 3.5/5]