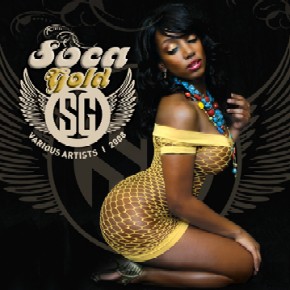 Since its inception in 1997, the Soca Gold series has led the genre with breakthrough hits and enduring classics.  
Carnival Competition determines big hits in Soca and establishes young acts in the genre.   Soca Gold serves as the soundtrack to Carnival.   Now, on May 20th, comes the latest installment: Soca Gold 2008.
Soca Gold 2008 includes stand out sunshine-soaked songs by Fay-Ann Lyons Alvarez, Roy Cape, Kerwin Du Bois & Shal Marshal, and Ricky T, each of their songs have been hits at Trinidad's carnival.   Soca Gold 2008 also includes bumping, party-ready tracks from Mr. Dale and Don Trent, which have been hits on New York radio.
A bonus DVD comes with Soca Gold 2008, which includes live performances from Fay-Ann Lyons, Roy Cape, Ricky T, Farmer Nappy, Roy Cape featuring Blaxx, Edwin Yearwood, Kerwin, Shal Marshal & Bunji Garlin at Trinidad & Tobago Carnival 2008 and Crop Over 2007.   The DVD also includes music videos and plenty of Carnival vibes that make up more than 90 minutes of viewing entertainment.   If you couldn't make it to Carnival 2008 in person, here's your chance to go behind the scenes like never before.
Track Listing:
1 GET ON – FAY-ANN LYONS ALVAREZ *
2 BREATHLESS – ROY CAPE feat. BLAXX
3 GYAL FARM – KERWIN DU BOIS & SHAL MARSHAL *
4 FEELS LIKE I'M HOME AGAIN – EDWIN YEARWOOD *
5 SOKA JUNKIE – MR.DALE
6 BRING IT – BUNJI GARLIN Feat. HUNTER
7 PRESSURE BOOM – RICKY T*
8 GIRLS GONE WILD – LIL RICK *
9 WUKKING UP ON ME – SURFACE feat. TONY PRESCOTT
10 WUKKING UP – PATRICE ROBERTS *
11 CHIPPIN' (with me own woman) – FARMER NAPPY *
12 KICK IT OFF – EL-A-KRU
13 ME & YOU – DON TRENT
14 WORK OF ART – JAMESY P
15 DOWN DEY – SEAN CARUTH
16 SHE PUSH HE – ANDY "BLOOD" ARMSTRONG
17 DON'T CALL MY PHONE — JADINE