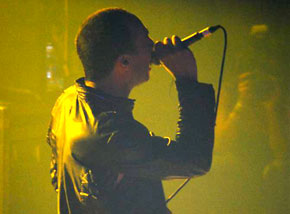 Front man Justin Warfield was sporting a creepy moustache at last night's performance of She Wants Revenge in Fort Lauderdale. What is up with the moustache trend in the indie rock scene? I live by these words of wisdom "Guns don't kill people, men with moustaches kill people".
This troubling phenomenon is spreading too. The Black Lips are two for four and even Rivers Coumo of Weezer is rocking the stash on the latest cover of SPIN. I say leave the moustaches to Magnum P.I. and Ted Kaczynski.
Despite the stash travesty SWR put on a fantastic show. It was energetic and propulsive. The band is only two permanent members, Warfield and instrumental wizard Adam Bravin, with accompaniment of Thomas Froggatt on guitar and keys and Scott Ellis on drums (not sure why they aren't permanent). Despite this strange arrangement they were very cohesive and they managed machine like precision. The foursome crafted a powerful sound with Warfield's brooding monotone delivering the darkly poetic lyrics to the packed club. Bodies moved, heads bobbed and enthusiastic sing-alongs broke out throughout the audience. The band ended their set with their biggest hit "Tear You Apart" a teeth clenching proclamation of lustful urges.
It was an eclectic audience with a fair representation of emo, indie, goth, glam and of course in full regalia the Suicide Girl archetype. It was a striking clash of cultures in comparing the garishly dressed music fans and the khaki and polo preps that were congregated at the newly opened America's Backyard which used to be Revolution's outside stage. In a transparent attempt to make more money from the concert goers we were all herded outside to the adjacent Backyard to hopefully get caught in the alcohol nets. I got out of there as fast as I could.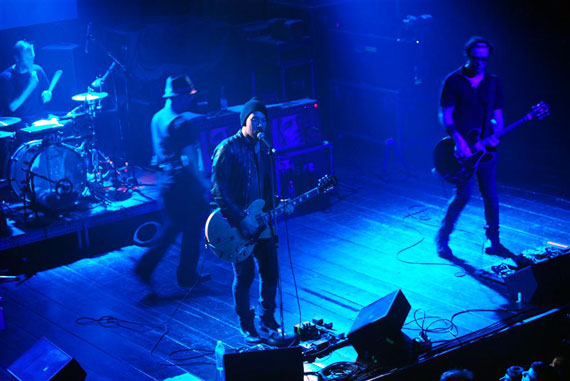 By Shaun Flagg
Photo credit: Joni Sansone