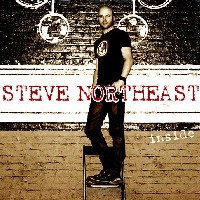 As a staff writer for Skope, lots of CD's come across my desk. This release from Steve Northeast immediately caught my attention. Steve is living in NYC via Australia from 2002. He came to the US for a new life and to pursue a career in music. This is his debut album that he is putting out independently through Tidal Records.
I have listened to this CD now over 3 times straight through. I am a firm believer that is the only way to really be able to form an opinion. I also like to judge a CD by three variables. Those are sound quality, depth of songwriting, and radio/video friendly songs.
This CD sounds super clear. The vocals and instrumentals are aligned perfectly. You can tell that Steve was very particular in how the final mix came out. Steve's songwriting is very personal and real. You can tell that he is speaking on real life. I would guess that the most personal song on the album is "Save A Prayer." If I were to pick the first single or video for this album I would have to choose the opening track, "Run Free." It sets the tone for the rest of the album.
Overall I really enjoyed this album and would suggest you to check it out. Steve can be found online at www.stevenortheast.com. Some tracks of note that really grabbed me were, "I Want You" & "Life." Thank you Steve for showing again that the indie scene is strong & thriving, great album!
Review By: Mikey Frieds
Buy The CD Here:
http://cdbaby.com/cd/stevenortheast
[Rating: 3.5/5]