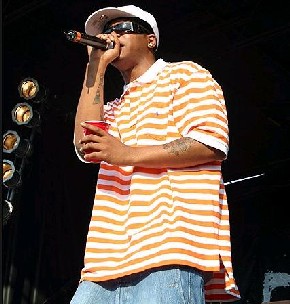 Southern hip-hop artist, Webster Gradney, Jr. better known as Webbie has been writing rhymes since the age of five.
Growing up on the rough streets of Baton Rouge Louisiana, rapping was Webbie's fuel. Losing his mom to cancer when he was eight years old didn't stop Webbie from discovering music and moving forward. Gradney, Jr. started listening to and relating with Gangsta rappers such as: 2 Pac, Easy E, Snoop Dogg, Geto Boys, 8 Ball, MJG, UGK and Scarface. One of Webbie's cousins showed him the way of spittin' lyrics and laying down rhymes, but it was not a lesson to Webbie. "Can't nobody really teach you how to rap I don't think. My cousin was the first one I really paid attention to and he is the one person that first turned me onto rap."
Webbie – I Miss You
[youtube t154lT-S40Y nolink]
Webster Gradney, Jr.'s mom simply loved music and in turn Webbie was going to make some noise for himself. No Limit and Cash Money were the big-time rap labels from New Orleans and Baton Rouge being only 45 minutes away, Webbie felt that this whole rap thing could happen. At 15 years old, Webbie was signed to Trill Entertainment Records and it is safe to say let the music begin. Since 2003, Webbie has turned out two studio albums and one compilation album along with being paired up with fellow Baton Rouge native, Lil Boosie, for some early tracks. Webbie was introduced to the mainstream public with hit singles such as: "Bad Bitch", "Give Me That" and most recently "Independent" and "I Miss You." Webbie's living large and he can't say enough about Trill Records and his home-town. "Trill Entertainment and Baton Rouge, Louisiana we movin' right now man. Everything Trill drops is hot and I'm not just sayin' that because it's my label. We just got a strong culture right now, as far as the fans go. Man, it's get money time; we blowin' up and gettin' bigger man. It's just time to get money."
Webbies's latest album, Savage Life 2, is a follow-up to his 2005 Savage Life record. Savage Life is "thug life" through the eyes of Webbie. He always raps on everything relevant to his life and Savage Life 2 is just that; life and times of growing up in Baton Rouge.When asked how he feels about the new album, Webbie had this to say, "Oh, I feel good right now, first one hit gooold. You know that's good, but I'm tryin' to see what platinum feel like." Webbie's latest installment includes 16 tracks with guest appearances from rappers: Bun B, Birdman, Rick Ross, UGK, Young Dro and the whole Trill Entertainment roster.
Webbie – Independent Feat. Lil' Boosie and Lil' Phat
[youtube gT1XrPmJ0XQ nolink]
Underneath Gradney, Jr.'s rough exterior, there is a soft spot for something special in his life, his twin daughters. When asked what or who his biggest influence was, it wasn't another musician or a material pocession, it was his two daughters. Also, as far as what's next for Webbie, it's not just about his music career as he says, it's about "watchin' my kids grown man". So, it seems Webster Gradney, Jr. is just a real and true person in which Webbie adds, "I don't know man, a lot of shit is important to me, especially my twin daughters, but you know I'm just a regular person bro."
Webbie feels strongly about just plain MUSIC and the hip-hop world in general and hates labeling: "I don't really label rappers east coast, south coast because it's just music man." Gradney, Jr. goes on to talk about how much hip-hop has changed over the years and where this music is heading. He compares the evolution of rap to the growing up of his two-year-old twin daughter. "It changed a lot man, it's gettin' better. Right now, I got a little twin daughter that's two years old already learnin' how to use the computer. Yeah, when I was two years old I didn't even know what a computer looked like. But that's the same with rap, it's just gonna get better. Ten years from now, the next generation gonna have songs better than the songs we makin' right now."
By: Jimmy Rae