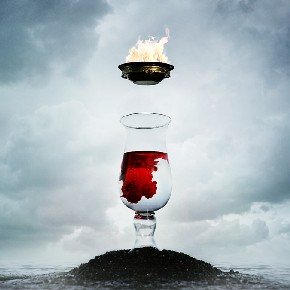 Alt-rockers The Classic Crime have recently emerged from the studio with producer Michael "Elvis" Baskette (Incubus, Story of the Year, Puddle of Mudd) and are ready to release their second full-length The Silver Cord through Tooth & Nail Records on July 22, 2008.
"We've never done anything this thematic before," explains vocalist Matt MacDonald about their new album. "I've always just written what comes natural. I think the strength of this album lies in conceptual depth."
"Seattle" From Seattle Sessions
[youtube 39dnzcKDiRk nolink]
Two years since they released their critically-hailed debut Albatross (which still holds the title of being the best-selling debut in Tooth & Nail history) and a little under a year since their introspective, but no less remarkable, acoustic EP The Seattle Sessions, The Silver Cord perfectly displays their growth as both rockers and songwriters. With their guitars and rhythm section amped up and Matt's songwriting wound tight, they have delivered an exciting and excellent follow-up. "I think this album has more contrast than any record," Matt continues. "The 'silver cord' is an ancient literary metaphor for the connection between life and death," he explains. "It has mystical attachments because some people who are pronounced dead and come back to life noticed a silver, tinsel-like cord connecting their 'spiritual body' to their physical one. This relates to the album in that it is very simply put about life and death. All of the songs on the album flow out of this context and they relate to the title in different ways. Images of love, lust, mortality, death, and the fragility of life among others can be drawn from each song."
Recorded in February and March 2008, The Silver Cord is an album ripe with heavy, dense chords held buoyant with incredibly tight musicianship and infectious melodies. From the opening staccato guitars of "Just a Man" that break into intricate fretwork intertwining with Matt's seasoned vocals, it becomes readily apparent how much they've grown. "Elvis [producer] noted that we were a different band, and the vibe was totally different," recalls Matt. "We went about things completely different, recording the album like a 90's Alt record rather than a 2008 rock record. We didn't use click tracks or borrowed samples, we didn't quantize anything either… we can actually say that we played what you hear." The first single, "Abracadavers" is just one of many testaments to their strength as a band on this album, and proof to those who might have thought they have gone soft because of their acoustic EP. "We wanted to show that we enjoy and are capable of different styles of music," explains Matt. "You can't hear any folk on Albatross, but it's all over the Seattle Sessions EP. It may have been risky, but we'd rather have integrity musically than worry what people might think."
The band has been pegged for the whole 2008 Vans Warped Tour this Summer (dates forthcoming) and is ready to let go of the "silver cord". "We love what we do, and we just want to do it as best we can," he concludes. "It's hard to know what's ahead with the climate of the industry these days, but we're extremely excited for Warped Tour this summer. We can't wait to play these new songs out live."
The Silver Cord will be released on Tooth & Nail Records on July 22, 2008 and was produced by Michael "Elvis" Baskette.