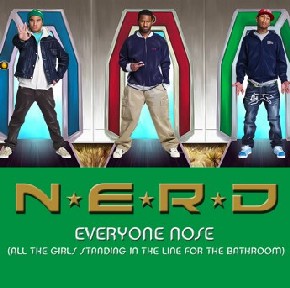 You already know the story of the Neptunes. World-famous producers and songwriters, Pharrell Williams and Chad Hugo, over the course of their decade-long career, have literally changed the course of music.
It started with the redefining of hip-hop, the two of them wielding a minimalist, synthesized palette and a limitless imagination to create a sound that was as sophisticated and elegant as it was raw and rhythmic. Soon the Neptunes would alter the landscape of pop music, as well, creating driving rhythm & blues influenced work that artists in every genre would seek out to help establish their creative impulses. They have worked with everyone from Madonna and Justin Timberlake to Jay-Z and Gwen Stefani; from Britney Spears and Busta Rhymes to Kelis and the Clipse. Think of your favorite songs in the last ten years: most of them are Neptunes productions.
But N*E*R*D* are not the Neptunes, and the Neptunes are not N*E*R*D*.
"Everyone Nose" video premiere on AOL:
N*E*R*D performs on Letterman: