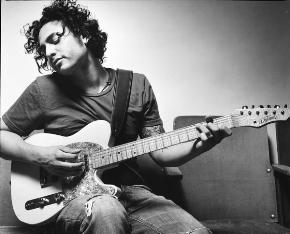 CBS Records recording artist Keaton Simons is embarking on a national tour starting May 20 in Boise, Idaho.
 This is the first national tour for the soulful singer/songwriter/guitarist in support of his first full-length album Can You Hear Me, which will be released on June 10.
Keaton has toured several times in the past, sharing the stage with artists like Coldplay, Chris Isaak, Five For Fighting, Guster and Josh Kelley. This tour has Keaton playing dates with fellow CBS Records artist Will Dailey, Sister Hazel, Curtis Peoples and Tyrone Wells.
After years of playing in other people's bands, serving as the musical director of Pharcyde, and later playing with the Black Eyed Peas and Snoop Dogg, Keaton grew restless to make his own music. After signing with the Maverick label, an initial EPgarnered massive radio airplay on cutting-edge tastemaker radio stations like KCRW and theaccompanying video scored in the top 5 at MTVu. As the heat continued to build, Keaton had the rug pulled out from under him as the label was dismantled by its parent company, Warner Music Group. Undeterred, Keaton signed with CBS Records, which offered him a compelling mixture of complete artistic freedom and massive exposure via its ties to television powerhouse CBS Entertainment.
"Simons' music is like a mix of Dave Matthews, laten Sublime frontman Bradley Nowell and the early years of the Counting Crows. There really isn't a bad song on this 11-track effort, and you'd be hard-pressed to find one more grooving than 'Good Things Get Better.' If you like any music by the aforementioned artists listed in this review, you'll love this record. Be like Lycos and go get it. – Michael DiVittorio, Pittsburgh (PA) Daily News, 5/15/08
The following are Keaton Simons' confirmed tour dates, more dates will be announced shortly:
 
May 20 Boise, ID                                         Reef                                                                                 With Tyrone Wells
May 21 Provo, UT                                       Velour Live Music Gallery             WithTyrone Wells
May 22 Las Vegas, NV                       House Of Blues                                           With Tyrone Wells
May 23 Richmond, VA                         Toad's Place                                                     With Sister Hazel
May 28 Tempe, AZ                                   The Clubhouse                                               With Tyrone Wells
May 30 SF, CA                                                 Rockit Room                                                     With Curtis Peoples
June 1 Annapolis, MD                           Rams Head Tavern                               With Will Dailey
June 2 Vienna, VA                                     Jammin' Java                                                   With Will Dailey
June 3 New York, NY                           Living Room                                                       With Will Dailey
June 4 Cambridge, MA                       Middle East                                                         With Will Dailey
June 5 Philadelphia, PA                     World Café                                                         With Will Dailey
July 3     St. Pete. FL                                 Jannus Landing                                               With Sister Hazel