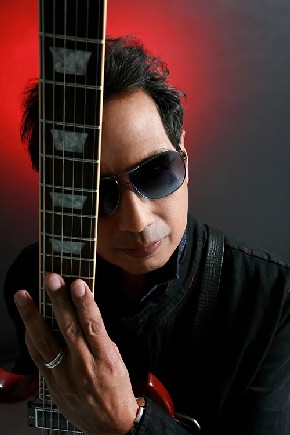 With the impending release of his 9th solo album REAL ANIMAL, Alejandro Escovedo will hit the road as the opening act for the Dave Matthews Band beginning June 9th.  
 Alejandro will perform with his full band which consists of:   David Pulkingham (guitar), Josh Gravelin (bass), Hector Munoz (drums), Susan Voelz (violin) and Brian Standefer (cello).
A prolific and influential musician, Alejandro Escovedo will further kick off this much-anticipated release with two national TV performances.   On Friday, June 20th, Alejandro and band will perform on NBC's Late Night with Conan O'Brien and on day of release, Tuesday, June 24th, Escovedo and band will make a special appearance on NBC's The Today Show.  
Touted by Rolling Stone Magazine as "a collaborative triumph", REAL ANIMAL is charged with fist-pumping guitar anthems and is a collective journey through Escovedo's genre-defying career as a punk rocker, an alt-country pioneer and an artist beloved by fans and critics alike.   REAL ANIMAL is Escovedo's follow-up to his 2006 critically-acclaimed release THE BOXING MIRROR and features 13 original tracks that provide a kaleidoscopic musical history of his 30 year career.
REAL ANIMAL marks Escovedo's second release for the EMI-based Manhattan/Back Porch Records and will be released digitally and in-stores on CD and vinyl Tuesday June 24, 2008.
DATE                                                                         CITY/VENUE
6/9                                                                                     Clarkston, MI/DTE Energy Music Theatre
6/10                                                                                 Scranton, PA/Toyota Pavilion at Montage Mountain
6/13-14                                                                     Hartford, CT/New England Dodge Music Center
6/17                                                                                 Darien Center, NY/Six Flags Darien Lake Performing Arts Center
6/18                                                                                 Toronto, ONT/Molson Amphitheatre
All photos in this section © Mick Rock 2008.