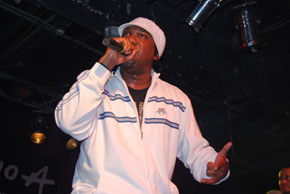 Is waiting an hour and a half between sets ridiculous? Absolutely. Honestly, it got to the point that I set a time limit for how much longer I was going to wait for KRS-One to show up and start his set.
It seemed like some seriously diva-like behavior to me and I was not impressed. Luckily, KRS showed up before my self-imposed deadline and I forgot all about how long I had to wait for him to get started. We may have had to wait an hour and a half for him to start, but he played for a full hour and a half, right up until the 2 A.M. closing time.
A lengthy set is all well and good, but what's the point if its not quality time? This was quality time. KRS-One blew me away and proved there's a good reason he's considered a legend in rap. I didn't time it exactly, but he did at least a half hour straight of free style, probably more. Throughout the whole set, I was impressed by how skilled KRS is technically. His message of self-determination and non-violence is not standard fare for a lot of rappers, yet he managed to keep it entertaining and lyrically interesting where many other performers might have lost the crowd to the message. One small quibble — the set seemed a little disorganized or unplanned, but the DJs did a good job connecting the disconnected bits.
I was also impressed by the Strange Famous Records showcase. The showcase started with B. Dolan. I had seen him before, but as a guest in a Sage Francis show and he had only done a spoken word piece. This time, B. Dolan rapped and I really enjoyed his work. This guy obviously practices a lot because his timing was spot on with a very complex beat. It was interesting to note how much he looked and sounded like Sage. I guess that's a good way to build a brand…. Next, label mate Prolyphic came out and rapped with B. Dolan and did a song by himself. Sage was next and he started with one of my favorite songs, "Sea Lion." His set was great, but as with B. Dolan and Prolyphic, not nearly long enough. I had hoped I would get to hear more from all three, especially in light of the long wait between their set and KRS-One's. I felt like even the opening act (whose name I unfortunately don't remember) had a longer set than the guys of Strange Famous Records, which is a real shame. Strange Famous Records deserved a longer set to showcase their talents, even with a legend coming on after.
By Stacy Coronis
Photo: Joni Sansone