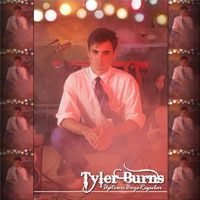 This debut EP by Tyler Burns is a brief, five track introduction to the new wave singer and electronic composer. Burns manages to imitate his influences like Duran Duran and Depeche Mode yet is unable to make an indelible mark for himself. The album is upbeat and dancey and features the usual electronic accoutrement of new wave synth music: electronic beeps, blips and synthesizer melodies.
The failure is in not just in the imitative nature of the sound but that it a cheap imitation. We can all applaud and enjoy bands like The Bravery and the Shout Out Louds because they make layered and complex music even if it is highly derivative. But here the effort lacks the depth of electronic layering and composition that make those bands so compelling. The amateurish production is the main culprit in what should be considered a demo CD more than anything else. Maybe if Burns had a bigger budget he would have been able to achieve a fuller sound, one that could possibly result in a more sophisticated musical arrangement. It also could help mask Burns' limited vocal range — his inability to reach vocal heights serves to ground any hope of an emotional transcendence.
There are no peaks on this album only bland monotony. He tries to deviate from new wave by infusing a sort of George Michael pop sexiness, most evident on "Stop The World" with its breathy vocals. He veers off track and in his attempt to add some sexiness shows he hasn't made up his mind if he wants to make pop or new wave. The former embodies vulnerability and this contrived sexiness seems terribly out of place further confounding the already ill-conceived effort.
By Shaun Flagg
[Rating:2/5]