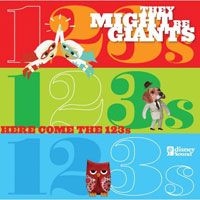 They Might Be Giants turned their musical talents to children's educational music first with Here Come The ABCs and now with their follow up Here Come The 123s produced by Walt Disney Records. If you don't have children of pre-school age you can skip this review. If you do have children in that age group you may find this informative.
The album is full of short catchy songs composed of soft progressive rock instrumentation and folksy vocals. The quirky, off-beat nature of the songs and the accompanying DVD with its playful cartoons, computer animation and puppetry make this a fairly successful creation. There is a lot of repetition that will help kids retain the information and it does seem that it would sufficiently engage the young listeners. Fortunately, TMBG is adept at creating songs that are kitsch cool and kid friendly while also retaining their signature rock sound ala intricate chord progression, textured instrumentation and John Flansburgh's soft, soothing vocals.
You could tolerate your kids listening to this on repeat with out knocking your head against the wall – definitely a step up from traditional child programming. 123s makes learning fun and as parents you might actually be able to participate in your child's enthusiasm instead of feigning interest and suffering through it. An added benefit is that there is some first rate rock and roll instrumentation on this disc, which will give your child an appreciation for music and maybe, just maybe, they will become a more discriminating consumer of it. For what it is, this effort deserves applause; in that it is educational childhood programming that is palatable to both parent and child.
by Shaun Flagg
[Rating:4/5]